I haven't watched the Allegiant movie yet, but seeing at the trailer, it looks pretty awesome.
In honor of the release of the movie, Margo from Epic Reads created this tag. I was tagged by Cath over at Trust in the Words. Thanks so much for tagging me!
Original video: https://www.youtube.com/watch?v=Fua30AsZpKc
The Questions:
1. Obvious question: What Faction are you and why?
Here's the results I got when I took faction quiz.  It says that I'm divergent, but more Candor and Eurdite than the other factions. I've been taught ever since I was a young child to tell the truth, despite the consequences. In the end, being truthful is the right things to do. Also, I'm super curious and love to read (obviously).
2. If you had to make your very own faction, what would it be called?

Ok. Let me just look into the pool of SAT words. I'll be back shortly.
We should have a faction called Bibliophile, where all the book lovers go and rule the world. The sign would be an open book and pen, and we can handle the media portion of the Divergent world, if they have a media portion.
3. If you were leaving your home/faction, what's the one thing from your old life you would bring with you?

I would bring a mini photo album filled with pictures of my family and friends, so I remember the good times we had together. Pictures speak a thousand words, you know what I'm saying? I kind of wish we had those moving pictures like in Harry Potter.
4. Good with knives?

Cooking with knives? I'm bad. Throwing knives? Even worse.
5. Why does Four love about you?

Um. Because I'm weird? I have no idea. What if I said that I didn't like Four in Allegiant?  Would I be offending anyone? Sorry, Four.
6. Tris. Short Hair? Long Hair?

Hmm. The actress who plays Tris in the movies is blessed with the ability to look good in both long and short hair. I'm envious. However, I liked her short hair in The Fault in our Stars movie.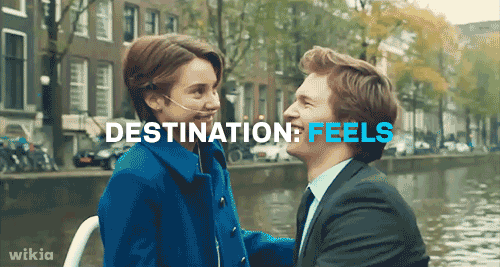 7. Would you go beyond the wall or stay put?

Times are awful inside the wall.  Let's go on an adventure!
8. Let's tag some initiates!
Emma @ Emma the Book Lover
DrAwkto @ Inky Awkto
Heather @ The Sassy Book Geek
Olivia @ Heir of Glitter
Until next time….