I was nominated by Aralyn @ Paper Addictions and Magic. Thanks so much for nominating me! Make sure to check out her blog! She's a.ma.zing!
I've been nominated for the Liebster Award once before, and if you want to check my first award, click here.
The Rules:
1. Acknowledge the blog that nominated you and display the award.
2. Answer the 11 questions that the blog gives you.
3. Give 11 random facts about yourself.
4. Nominate 5-11 blogs that you think are deserving of the award that have less than 200 followers.
5. Let the blogs know you have nominated them.
6. Give them 11 questions to answer.
The Questions:
1. Do you have an auto-buy author?
Yes! I will automatically buy anything by authors like Rick Riordan and Sarah J. Maas. Their books are absolutely amazing, and none of them have disappointed me yet.
2. Physical copy, ebook, or audiobook? Or all 3??
All three! My main form of reading is physical books, but occasionally I'll read ebooks when I can't carry around the physical book. Also, if I want to multitask (or just relax without using my eyes), then I'll listen to an audiobook. I'll take a book in all its form.
3. What's your least liked trope in books?
One of my least liked trope in books is when the main protagonist makes decisions based on his/her emotions at the moment. Seriously. I've seen this is far too many YA books, and I'm getting a bit sick of it. You have a brain, so use it! Please! I beg you!
And most of the time, their poor decisions end up affecting the ones they love negatively. After the second time they did something like that you'd think the that they learned their lesson but NO. They just go do it again. And again. And again.
Stop.
And.
Think.
That's all I ask of you. Please.
4. Do you have a favorite type of character personality?
I really enjoy reading about the quirky, weird characters in stories because their not afraid to be themselves. A lot of the time, the protagonists are under so much pressure to act a certain way that they can't be themselves. It's freeing to read about characters who don't care about what other people think about them. I aspire to be able to feel that way one day myself.
5. Do you like dog-ear-ing and writing in your books or must they be pristine?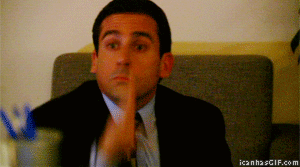 NO DOG-EARING THE PAGES! It's one of my biggest pet peeves when people dog-ear pages of a book. WHY WOULD YOU EVEN DO THAT? Anything could be used as a bookmark, but people decide to damage a perfectly okay book by folding its pages.
As for writing in books, it depends on what book it is. If it's an old book that I don't particularly care about, I don't mind writing around the margins. However, if it's a book that I know I'm going to love, I use sticky notes instead.
6. What book world would you want to live in?
HARRY POTTER!
7. Is there a genre that you just will not read?
I'm not against any genre, but I don't read non-fiction often. Most of the time, I only read non-fiction books when I have to for school. Other than that, I read fiction books (mainly fantasy).
8. What is your favorite book/series right now?
Throne of Glass series and A Court of Thorns and Roses series both by Sarah J. Maas are my most recent favorite series right now.
9. Do you have a favorite character couple?
I have so many! I'm a big fangirl for any OTP.
– Rowan + Aelin (Throne of Glass series by Sarah J. Maas)
– Rhysand + Feyre (A Court of Thorns and Roses series by Sarah J. Maas)
– Kaz + Inej (Six of Crows series by Leigh Bardugo)
– all the OTPs in the Lunar Chronicles by Marissa Meyer
– Percy + Annabeth (Percy Jackson and the Olympians series by Rick Riordan)
– Levi + Cath (Fangirl by Rainbow Rowell)
– Elend + Vin (Mistborn trilogy by Brandon Sanderson)
– Baz + Simon (Carry On by Rainbow Rowell)
– Daemon + Katy (Lux series by Jennifer L. Armentrout)
– Magnus + Alec (The Mortal Instruments series by Cassandra Clare)
– Simon + Isabelle (The Mortal Instruments series by Cassandra Clare)
Just to name a few.
10. Is there an animal sidekick you've met in books that you'd want on your side?
I would love to have OreSeur (as a wolf/dog) from the Mistborn trilogy by Brandon Sanderson as my sidekick. Not only can it take any form, it can also advise. However, on the downside, it only serves you because of a contract, not because it cares for you. However, maybe Vin will have some luck with OreSeur… Who knows what will happen?
11. Why do you like reading?
Because it enables me to experience things I wouldn't be able to experience in real life. Because it's what keeps the dark monsters at bay. Because life would be dull without it. Because it brings me joy. There are so many reasons why I love reading.
The Facts:
1. I grew up watching and playing Pokémon.
2. So obviously I play Pokémon Go and I'm not ashamed to admit that.
3. I listen to the Hamilton soundtrack but have never seen the Broadway show (still love it though).
4. I just started watching the TV show Reign and it's freaking intense at times.
5. I can never seem to finish one season of a TV show unless it's Sherlock or Game of Thrones.
(True story: I was watching Arrow a couple months ago, and I watched up to the second to last episode in the first season. I still haven't watched the last episode in Season 1 yet and it's been months. Months! Gosh, I'm hopeless when it comes to committing to a TV show.)
Sorry not sorry.
6. I finally finished my first serious digital piece of Rhysand and Feyre. It isn't good, but it's a start. Practice makes perfect.
7. I'm trying to decrease the number of books that I own but haven't read, but it seems like the pile is endless. Right when I finish a couple books from the pile, I add more. WHY DO I DO THAT? I have no idea.
8. I'm terrible at telling facts about myself.
9. I'm running out of facts about myself.
10. I swear I'm more interesting in real life (whether or not that's a good thing, I'm not sure)
11. I'm about to blow your mind.
I
don't
like
pizza.
Yup. That's right. I don't like pizza. I used to, but there was a period of time that I ate it so often that now I'm a bit sick of it. I think in about a year I'll start liking it again, but for now, I'm saying no to pizza.
Hate me all you want.
The Nominations:
Annelise @ Annelise Book Life
Jauza @ Books and Candies
Melissa @ So Many Books, So Little Time
Martin @ A Pretty Wonderful Book
Niraja @ Fantastic Books and Where to Find Them
My Questions:
1. When did you start your blog and why?
2. Are there any books that you refuse to read?
3. Any book-ish pet peeves?
4. If you could hang out with one character (from a book) for a whole day, who would it be?
5. What is your newest favorite book/series?
6. Do you have any OTPs that no one else seems to agree with you on?
7. What book/series do you think is the most overhyped?
8. What are some of your favorite TV shows?
9. What is your favorite book from your least favorite genre?
10. Paperbacks or hardcovers?
11. Out of all the different book worlds out there, where would you want to live?
Until next time….