That kiss broke me down and then rebuilt me. His kiss…well, it made me.
He made me.
And because of that, I knew it went both ways. He made me. And I made him.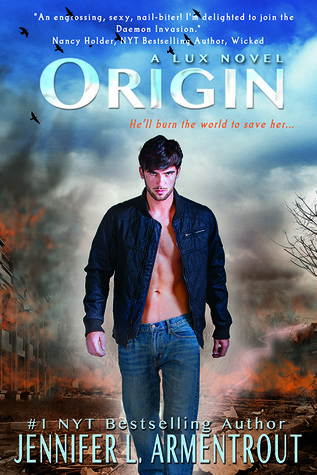 Title: Origin
Series: Lux, #4
Author: Jennifer L. Armentrout
Published: August 27, 2013
Edition: ebook
Pages: 400
My Rating: 4.5 / 5
Goodreads page
WARNING: There are spoilers from the first three books (Obisidian, Onyx, and Opal) of this series in this review.
Synopsis
Daemon will do anything to get Katy back.
After the successful but disastrous raid on Mount Weather, he's facing the impossible. Katy is gone. Taken. Everything becomes about finding her. Taking out anyone who stands in his way? Done. Burning down the whole world to save her? Gladly. Exposing his alien race to the world? With pleasure.
All Katy can do is survive.
Surrounded by enemies, the only way she can come out of this is to adapt. After all, there are sides of Daedalus that don't seem entirely crazy, but the group's goals are frightening and the truths they speak even more disturbing. Who are the real bad guys? Daedalus? Mankind? Or the Luxen?
(This synopsis is from Goodreads.)
Thoughts
My favorite quote in the whole entire book:
The soldier spun around and ran—and I mean he ran at full light speed—toward the door. Kat screamed and then clasped her hands over her mouth. I moved to block the grisly sight, but it was too late. Largent smacked into the door with a fleshy, wet thud, hitting it at the kind of speed jumping out of a fifty-story window would do.
Silence descended, and then Nancy said, "Well, that was disappointing."
Yes. It's a bit morbid, but it stuck with me throughout the whole book.
A lot happened in this book.
More characters died that I expected. I guess I'm so used to all the main characters in YA literature surviving until the end that I wasn't expecting anyone to die in this series.
This book (thankfully) is written in two different point of views (POVs). Every chapter or so, the story will switch between Katy and Daemon. In the end of the third book, Katy is captured while the others escape from the Mount Weather mission. Because Daemon and Katy aren't together in the beginning of this story, I was thankful that there were two different POVs.
While the previous books focused on figuring out what Katy was and fighting against Arums, Origin is more focused on the DOD.
There are some new characters that join the mix, like Archer. Archer is the soldier that was assigned to Katy when she was captured. I can't say more than that or else I'm going to spoil something. All you need to know is that Archer is a pretty cool dude, but I'm not sure whether or not to trust him yet.
In every book, more and more is revealed about the Luxen and hybrids. It's almost like peeling an onion. The story has layers. (Yes, I'm sort of referencing Shrek right now.) It's so fun to discover more about the species (Is that what you call the Luxen? Species? Race? Ethnicity? I don't know.) as the story progresses. In a lot of series that I've read, everything about the unknown (whether it's a character, new species, world, contraption, etc.) is explained in the first book. It's nice to be able to have that shock of discovering something new in each book of the series.
There is a lot of new discoveries, if you will, in Origin. Secrets are revealed. Some are good, some are bad. Some I'm not sure if they're good or bad. There are betrayals and newly formed alliances that seem a bit fishy, and Daemon & Katy are not sure who to trust anymore.
As for the conclusion, once again, in true Jennifer L. Armentrout fashion, she ends this story with a cliffhanger.
I'm not sure how many more cliffhangers my heart can take from her. At least there's only one more book in the series. Opposition better not end in a cliffhanger!
Characters
Katy "Kat" Swartz
She's still pretty kick-butt.
Daemon Black
The more books I read with Daemon in it, the more I just love him. Katy + Daemon are so cute together that I want to squeal everytime I think of them.
Dawson Black
I don't have much to say about him other than it's super cute how much he cares for Beth.
Dee Black
Dee has finally forgiven Katy about Adam. She doesn't blame her anymore.
Matthew Garrison
Even though he's the fatherly figure of the Luxen, I've never really warmed up to Matthew. There's just something about him that I don't like, but I don't know what it is.
Ash Thompson
She tries to hate Katy, but I think Katy is growing on her and it's actually pretty great.
Andrew Thompson
I dunno. He's cool, I guess. Still doesn't like Katy all that much, but other than that Andrew is pretty chill.
Archer
I think I found my newest favorite character in this series. He's a new character, and I can't say much about him without revealing a lot about the plot.
Luc
Still don't trust him.
Nancy Husher
You know those mad scientists in stories that try to create something evil and when their powering their creation up they're like:
Yeah. Nancy reminds me of one of those people.
Blake Saunders
He got what was coming to him.
Conclusion
I give this book 4.5 / 5 BBC Sherlock heads. I love this series so much that I can't even express it with words.
Until next time….