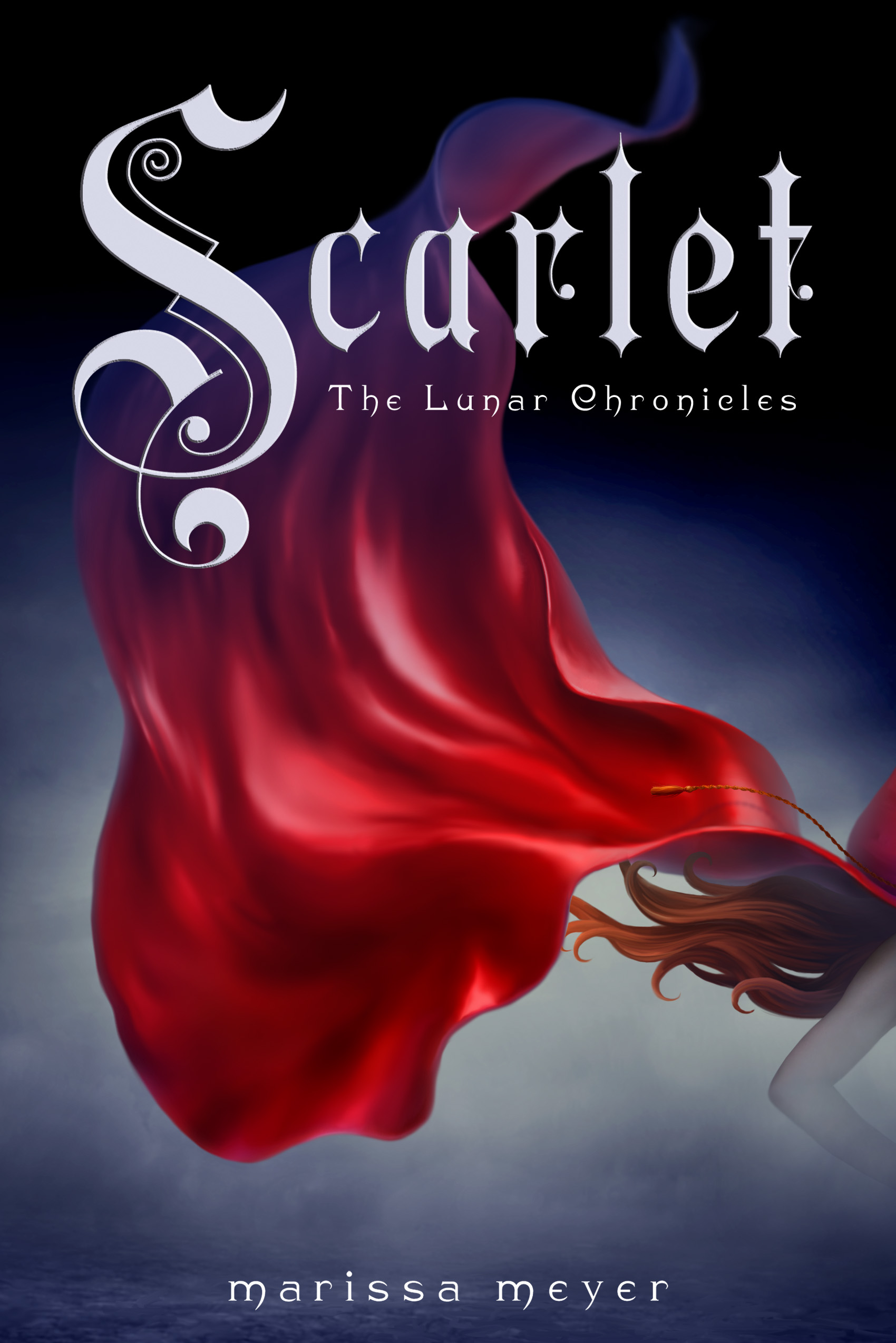 Title: Scarlet
Series: The Lunar Chronicles, #2
Author: Marissa Meyer
Published: 10/05/13
Edition: hardcover
Pages: 464
My Rating: 5 / 5
Goodreads page
WARNING

: There are spoilers of the first book, Cinder, in this review.
Synopsis
Cinder, the cyborg mechanic, returns in the second thrilling installment of the bestselling Lunar Chronicles. She's trying to break out of prison—even though if she succeeds, she'll be the Commonwealth's most wanted fugitive.
Halfway around the world, Scarlet Benoit's grandmother is missing. It turns out there are many things Scarlet doesn't know about her grandmother or the grave danger she has lived in her whole life. When Scarlet encounters Wolf, a street fighter who may have information as to her grandmother's whereabouts, she is loath to trust this stranger, but is inexplicably drawn to him, and he to her. As Scarlet and Wolf unravel one mystery, they encounter another when they meet Cinder. Now, all of them must stay one step ahead of the vicious Lunar Queen Levana, who will do anything for the handsome Prince Kai to become her husband, her king, her prisoner.
(This synopsis is from Goodreads.)
Thoughts
I love Little Red Riding Hood retellings almost as much as I like Beauty and the Beast retellings.
At the time I first read this book, I didn't know what to expect. I could tell by the cover that it was related to Little Red Riding Hood, but I wasn't sure if it was going to be a whole new set of characters in the same world (like the Starbound trilogy by Amie Kaufman and Meagan Spooner) or if this story was going to intertwine with the previous book, Cinder.
I was pleasantly surprised on how smoothly both Cinder's and Scarlet's story came together to become one big story.
As for the story itself, things get even more heated.
A big portion of this book is dedicated to Scarlet and her quest to find her missing grandmother. Along the way, she bumps into Wolf, a street fighter, and of course they fall in love.
There are a lot of elements of Little Red Riding Hood in this story, but Marissa Meyer made it her own. Most of the time, I find that retellings are predictable (because I already know the story they're retelling), but Scarlet had a lot of twists and turns that I didn't expect. I guess that's what makes it a good retelling. It has bits and pieces of the original, but it's a whole different story.
Characters
Scarlet Benoit
She's strong. She's a fighter. She's basically that super nice friend who's secretly a bad-ass.
Wolf
He's cute in the I'm-clueless-about-how-to-function-within-the-human-race kind of way.
Linh Cinder
Can we be friends? I'd really love to be your friend.
Captain Carswell Thorne
He kind of reminds me of Captain Jack Sparrow from Pirates of the Caribbean.
Iko
She is my favorite robot.
Prince Kai
Oh my dear prince. You have a difficult path ahead of you.
Queen Levana
HOW DO YOU LIVE WITH YOURSELF?
Conclusion
I give this book 5 / 5 BBC Sherlock heads. I loved it so much!
Until next time….