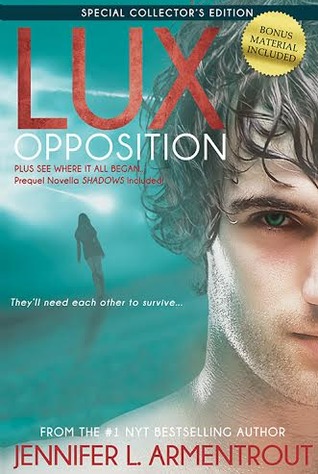 Title: Opposition
Series: Lux, #5
Author: Jennifer L. Armentrout
Published:8/05/14
Edition: ebook
Pages: 500
My Rating: 4 / 5
Goodreads page
Warning

: There are spoilers of the previous Lux books in this review.
Synopsis
Katy knows the world changed the night the Luxen came.
She can't believe Daemon welcomed his race or stood by as his kind threatened to obliterate every last human and hybrid on Earth. But the lines between good and bad have blurred, and love has become an emotion that could destroy her—could destroy them all.
Daemon will do anything to save those he loves, even if it means betrayal.
They must team with an unlikely enemy if there is any chance of surviving the invasion. But when it quickly becomes impossible to tell friend from foe, and the world is crumbling around them, they may lose everything— even what they cherish most—to ensure the survival of their friends…and mankind.
War has come to Earth. And no matter the outcome, the future will never be the same for those left standing.
(This synopsis is from Goodreads.)
Thoughts
I finally finished this series after starting it four years ago. For a conclusion, I'm fairly satisfied over the way it ended.
The book sucks you right into the world. Even though it was a couple months since I read the previous book, it felt as though I hadn't left at all.
Throughout the whole series, I had no idea how Katy and Daemon kept on getting out the the crap situations they always found themselves in. Especially now, the world has gone into a zombie-apocalypse type state.
The series gets progressively more violent. Starting off, Obsidian was your typical cute YA fantasy paranormal romance novel with very little fight scenes. Now, there has been a lot of war and battles going on. I don't think the fighting was the main aspect of Opposition, but it was a big part of it.
My favorite character was Archer. His slow growing bromance with Daemon is pretty hilarious to read about. Plus, Katy and him are friends now and that's pretty cool too.
Luc is also a pretty cool character. It's weird to think about a younger teen being a super powerful character in a story. Most of the time, if someone is younger than the main character, they're seen as weaker or less intelligent. Luc is definitely the opposite of weak.
Characters
Katy Swartz
She's been going through so much crap. Give her a break!
Daemon Black
Boy, sometimes I want to smack you in the face for being so smug.
Dee Black
Um… yeah. I guess I like her?
Dawson Black
These upcoming years are going to be interesting for you, son.
Bethany "Beth" Williams
These upcoming years are also going to be interesting for you too.
Archer
He's my new favorite character. He's slowly warming up to Daemon and Katy and it's hilarious.
Luc
It's weird to think of a teen as a deadly person, but Luc is exactly that. A deadly teen.
Nancy Husher
She's the kind of person that reminds me of Gollum from the Lord of the Rings when it comes to Luxen and Origins. My precious…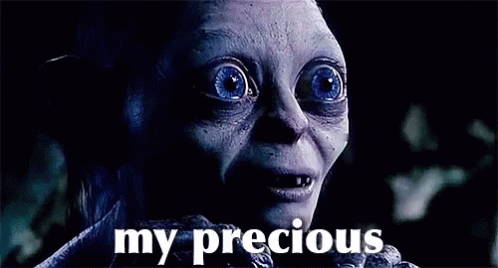 Hunter
I'm glad he is where he is now.
Conclusion
I give this book a solid 4 out of 5 BBC Sherlock heads. Loved the series!
Until next time….