Holy cheese balls this survey took me a long time to finish. It was fun, though.
I didn't know this was a thing until I saw it explode all over the blogosphere lately. I looked into it and it seemed interesting that I wanted to give it a go. This survey was created by Jamie over at The Perpetual Page Turner.
Because there were so many great books that I read in 2016, I'm going to try and not repeat the same book for each answer. There will be a couple repeats, though (a.k.a. you're going to see me fangirling over Six of Crows a lot).
2016 READING STATS
Number of books I read: 57
Number of re-reads: 1
Genre I read the most from: fantasy (obviously)
BEST IN BOOKS
1. Best Book You Read In 2016?
Six of Crows by Leigh Bardugo
This. Book. Is. So. Freaking. Good. I was surprised when I first read this because I had read the first book of Leigh Bardugo's other series and was underwhelmed. However, this new series that she has written is a different story. It's set in the same world, but follows totally different characters. It's a bunch of thugs and thieves trying to pull the biggest heist in history. If you haven't read this before, you are certainly missing out on a thrilling adventure.
2. Book You Were Excited About & Thought You Were Going To Love More But Didn't?
Water for Elephants by Sara Gruen
When I read the description to this book, I thought that I was going to love this book. It seemed like it was going to be the right blend of quirkiness, relationships, and heart break. It was a good book, but I didn't like it as much as I expected to. I found the younger Jacob to be a tad bit annoying, always pining over something he can't have. I guess that's human nature, though. We always want what we can't have.
 3. Most surprising (in a good way or bad way) book you read?
To Kill a Mockingbird by Harper Lee
I wasn't sure if I was going to like To Kill a Mockingbird, and surprisingly, I did. I don't read classics often, and in those few instances that I do, I normally don't enjoy them. This book, however, was an exception. There's so much in the story that I can relate to an extent, and it was like reliving my childhood, oblivious to the negativity around me.
 4. Book You "Pushed" The Most People To Read (And They Did)?
Throne of Glass by Sarah J. Maas
I wouldn't say that a lot of people actually read Throne of Glass when I recommended it to them, but I definitely pushed a lot of people to. You see, a lot of my friends either don't have the time to read or don't like to read. Some said that they'll try it if they have time, but I highly doubt it will be any time soon. I convinced an English teacher to give it a try while we were fangirling about books.
 5. Best series you started in 2016? Best Sequel of 2016? Best Series Ender of 2016?
Best series started: The Dark Artifices by Cassandra Clare
This is one of the series I'm really looking forward to seeing what comes next. I love the Shadowhunter world, and the series get better as they go. It was nice to dive into a familiar world again but with different characters. I feel like this series is going to be the angsty-est out of all the Shadowhunter series that Cassandra Clare has written. It's forbidden love, for crying out loud. It's going to angsty. Not that I'm complaining.
Best sequel: A Court of Mist and Fury by Sarah J. Maas
To say that I was pleasantly surprised would be an understatement when it comes to this story. I thought that the series couldn't get any better after the first book, but boy was I wrong. There was so much character development and the new kingdoms introduced were a great touch to the story. I don't change ships often, but ACOMAF made me jump off the Tamlin ship and into the Rhysand ship.
Best series ender: Opposition by Jennifer L. Armentrout
I didn't read many series enders in 2016. To be exact, I only read two. I chose Opposition  because I liked the ending more than the other one. I hate sad endings, and the other book I read had a really sad ending. AND IT WAS A MIDDLE GRADE SERIES! You can't end a middle grade series like that! Anyway, I really loved the Lux series and I'm happy with the conclusion.
 6. Favorite new author you discovered in 2016?
Amie Kaufman & Jay Kristoff
I don't know if there is another great writing duo out there. I feel a bit iffy when it comes to co-author writing because I sometimes find that the writing style is choppy. However, both Amie Kaufman & Jay Kristoff's writing styles are blend seamlessly together. I look forward to what they are going to write next.
7. Best book from a genre you don't typically read/was out of your comfort zone?
Furiously Happy by Jenny Lawson
I don't read biographies often, let alone autobiographies. I always find it super boring reading about how someone lived their life. However, I could personally relate to Jenny Lawson. I have social anxiety and suffered depression for a couple years. Reading how Jenny Lawson copes with her mental illnesses made me feel not alone. Plus, her stories are hilarious. The pictures add a great touch. She's just enough awkward and weirdness to make you laugh.
 8. Most action-packed/thrilling/unputdownable book of the year?
Six of Crows by Leigh Bardugo
Do I even need to explain myself? Six of Crows was so intense! If you haven't already jumped onto the bandwagon and read this book, you need to do that right this instant! Don't be skeptical about all the hype. The hype is there for a reason. I'm not going to say anything about this other than the fact that you'll fall in love with every single character in the Dregs. Except Matthias. I'm still holding a little grudge on him.
 9. Book You Read In 2016 That You Are Most Likely To Re-Read Next Year?
I usually wait a couple years before I reread a book because there are so many books I want to read. I don't have any plans to reread books from 2016 this year.
10. Favorite cover of a book you read in 2016?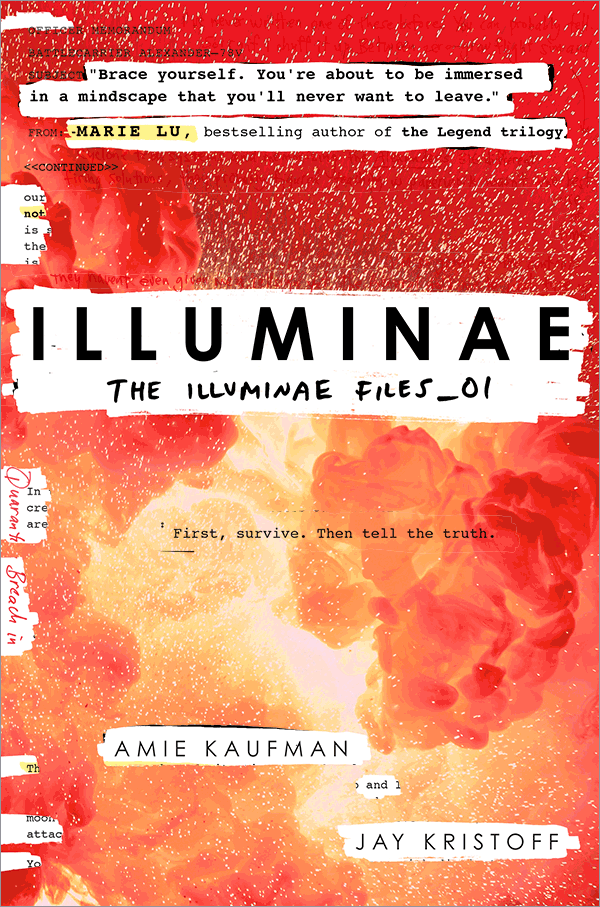 Illuminae by Amie Kaufman & Jay Kristoff
Not only does the story have an interesting format that it's told in, it also has an awesome cover. Heck, the whole thing is visually pleasing. The dust jacket on the hardcover version is awesome. Once you take that off, the book itself is stunning. I mean, do you see this .gif? You can't tell me that that isn't beautiful inside and out.
11. Most memorable character of 2016?
Kaz Brekker from the Six of Crows series by Leigh Bardugo
I haven't been able to stop thinking about this book ever since I read it, which says a lot. If you know anything about me, I'm forgetful. If I don't care enough to remember it, I won't. However, I'm so invested in this world of Ketterdam and the Dregs that it hasn't left my mind. I still constantly think of those little thieves, especially the genius behind it all.
 12. Most beautifully written book read in 2016?
milk and honey by Rupi Kaur
It's simple, yet powerful. I've never read poetry books before other than Shel Silverstein's books way back when I was younger. It was interesting to dive into a writing style that I haven't read in a while. Most of the poetry I've read before were targeted toward children, and seeing that poetry can also talk about deep and dark subjects opened my eyes to a whole new world of literature.
13. Most Thought-Provoking/ Life-Changing Book of 2016?
To Kill a Mockingbird by Harper Lee
Now I understand why certain classics are classics. I wouldn't say To Kill a Mockingbird was life-changing, per say, but it definitely changed my view on classics. It's kind of what people say about alcoholic drinks to those who don't like alcohol. You just haven't found the one for you. Bad analogy? Yeah. It was bad. However, this book was rather thought-provoking. While I was reading it, I stopped every once in a while to think about what I just read. That is something I don't normally do when I read.
 14. Book you can't believe you waited UNTIL 2016 to finally read?
Golden Son by Pierce Brown
I read Red Rising a little over a year before I started Golden Son. I really enjoyed the first book, so I have no idea why I waited so long to continue the series. The unfortunate thing about waiting so long is that I lost interest in the story and didn't enjoy it as much as I thought I would. I might not even finish the trilogy.
 15. Favorite Passage/Quote From A Book You Read In 2016?
My favorite quote from Empire of Storms was said by Aelin to a certain someone that I'm not going to mention because SPOILERS!
"The world," Aelin said, "will be saved and remade by the dreamers…"
I kind of find this true in the real world as well. It's the dreamers and weird ones that make the future.
16. Shortest & Longest Book You Read In 2016?
Shortest book (not including novellas): Julius Caesar by William Shakespeare
I feel like people either hate Shakespeare or love Shakespeare. There's no in between. I'm more on the hate side, but I still don't mind reading his works. The part I don't like is all the essays I have to write over them. It also bothers me the way of thinking back in Shakespeare's time was that people's fate was already decided. I didn't mind Julius Caesar, but I'd much rather learn the actual history of Caesar rather than read a play about him that was written way after he died. Sorry, Shakespeare.
Longest book: Oblivion by Jennifer L. Armentrout
Oblivion is the first book of the Lux series in Daemon's perspective. However, the Kindle version included not only the first book, but also the second and third book in Daemon's perspective, making three books in one. Because of that, this book was fairly long. 1,005 pages, to be exact. It was worth it, though. I really enjoyed it.
17. Book That Shocked You The Most
Empire of Storms by Sarah J. Maas
If we're talking about plot twists, Empire of Storms takes the cake. There were so many that I never saw coming. Especially that ending. I should expect it by now from Sarah J. Maas because of her past books, but I never can see what's coming next. I guess that's what I love about this series. It's unpredictable.
18. OTP OF THE YEAR (you will go down with this ship!)
Feysand (Feyre + Rhysand) from A Court of Thorns and Roses series by Sarah J. Maas
I used to be Team Tamlin when I read ACOTAR, but secretly was hoping that Feyre would end up with Rhysand. After reading ACOMAF, my opinions on Tamlin have totally changed. I know he did the things he did because he thought he was helping Feyre. He still was a major potato sack to Feyre, let's be real. That's why I support Feysand now. Rhysand is more than he let's on. If you haven't started this series yet, you need to get on that because it is amazing.
19. Favorite Non-Romantic Relationship Of The Year
Lumberjanes series by Noelle Stevenson
They're a really tight knit group that go on adventures together and will do anything for each other, including risking their lives. Who could ask for a better group of friends?
20. Favorite Book You Read in 2016 From An Author You've Read Previously
Oblivion by Jennifer L. Armentrout
One of my favorites was Oblivion. I have many more, but this one stood out to me. I've probably said this tons of times, but ever since I started the Lux series, I really wanted the story in Daemon's perspective. Oblivion is exactly that. This book was a dream come true.
21. Best Book You Read In 2016 That You Read Based SOLELY On A Recommendation From Somebody Else/Peer Pressure
Graceling by Kristin Cashore
I've been pressured for years by my friend to read this book, and I finally gave in. I kind of had to because she got me a copy for Christmas. Boy, am I thankful that she did! It was amazing to read some light fantasy for a change after all that high fantasy I had been reading. It was just what I needed. If I didn't read it at the time I did, I would've probably gotten into a huge reading slump.
22. Newest fictional crush from a book you read in 2016?
Julian Blackthorn from The Dark Artifices by Cassandra Clare
I secretly crush on Julian Blackthorn. Is that weird? I feel like if I met him in real life I would have a crush on him. I mean, come on. I've only read about him in stories and I already do. Hey fictional gods, can Julian Blackthorn please be a real person? Thanks.
23. Best 2016 debut you read?
Oddly enough, I haven't read any 2016 debuts. I thought I might've read one, but apparently I haven't. Maybe I should make an effort to read more debuts this year.
24. Best Worldbuilding/Most Vivid Setting You Read This Year?
A Court of Mist and Fury by Sarah J. Maas
I thought that the world presented in ACOTAR was great, but I really liked the way  Sarah J. Maas revealed the bigger world. All Feyre knew about at first was her town and the Spring Court. Now she sees another part of the big world that she lives in. It's just like real life. Everyone has their own little world within the whole world.
25. Book That Put A Smile On Your Face/Was The Most Fun To Read?
F
uriously Happy by Jenny Lawson
I had to read a biography for my English class and I didn't want to have the same book as everyone else. That's why I decided to read Furiously Happy by Jenny Lawson, and I didn't regret it. It's HILARIOUS. Jenny Lawson is so awkward and random. I guess the best part is that I can relate to her to some level. I have almost the same amount of awkwardness as her.
26. Book That Made You Cry Or Nearly Cry in 2016?
I tend to steer clear of books that make me cry because I hate crying. I know that makes me sound like a unemotional robot. I'd rather feel any emotion other than sadness because when I feel sad, I feel helpless. And feeling helpless is the worst feeling of all. In short, I don't read sad books if I can help myself.
27. Hidden Gem Of The Year?
Lumberjanes series by Noelle Stevenson
I don't think this graphic novel series gets as much attention it deserves. If you like adventure time, you'll most likely really enjoy this too.
28. Book That Crushed Your Soul?
Empire of Storms by Sarah J. Maas
The Throne of Glass series generally crushes my soul. Heck, Sarah J. Maas's writing crushes my soul. However, the ending of Empire of Storms (fifth book in the TOG series) ripped my heart in two, yanked out my soul, and crushed it with its bare hands and fed the remains to a roaring fire. I don't think anyone survived that ending. EOS Casualty Count: all the fangirls.
29. Most Unique Book You Read In 2016?
Illuminae by Amie Kaufman & Jay Kristoff
I have never seen a book like Illuminae before. From the cool dust jacket and cover to the format that the story is written in, the book screams unique. The story is written in files, text messages, and reports. It's any sci-fi nerd's dream. The story even has an AI (artificial intelligence) character. What more can you ask for?
30. Book That Made You The Most Mad (doesn't necessarily mean you didn't like it)?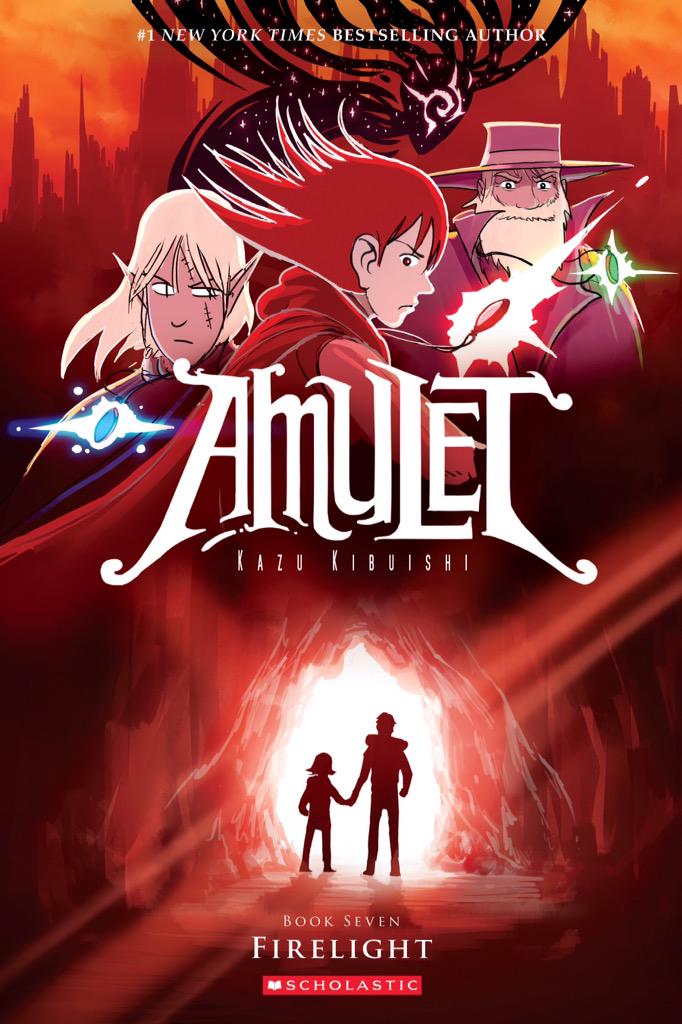 Firelight by Kazu Kibuishi
This was the other series ender I read in 2016 that I was talking about in #5. This is a middle grade graphic novel series that I really enjoyed up until the end. I'm so used to happy endings in stories that I'm always angry when I don't get one. ALL THE CHARACTERS DESERVED A HAPPILY EVER AFTER BUT THEY DIDN'T GET ONE!
BLOGGING/BOOKISH LIFE
1. New favorite book blog you discovered in 2016?
All of them? Since I can't just list one, here's a list of some of my favorite book blogs:
The Sassy Book Geek
The Inky Awkto
Teacher of YA
Chocolate N' Waffles
Fantastic Books and Where to Find Them
My Bookish Dream
2. Favorite review that you wrote in 2016?
I don't have a particular favorite review that I wrote.
3. Best discussion/non-review post you had on your blog?
I have no earthly idea. I like most of the posts that I do. Some more than others, but I don't have a favorite or one that I think is the best.
4. Best event that you participated in (author signings, festivals, virtual events, memes, etc.)?
I haven't participated much in bookish events in 2016. Actually, scratch that. I haven't participated in any bookish events in 2016. Maybe this year I'll do better. One of my bookish dreams is to attend BEA (Book Expo America) one year. Hopefully in the future I'll be able to fulfill that dream.
5. Best moment of bookish/blogging life in 2016?
This wasn't a certain day or anything, but I feel like 2016 is the year I finally understood how to blog. I cleaned up the outline of my posts and the general design of my blog, which is pretty nice. When this happened, I was proud of myself.
6. Most challenging thing about blogging or your reading life this year?
Because of my busy schedule this year, I had a difficult time finding time to read and blog. Despite the lack of time, I think I did pretty well this year.
7. Most Popular Post This Year On Your Blog (whether it be by comments or views)?
Based on the number of likes I got on this post, my most popular post of 2016 was the Bookaholics Anonymous Book Tag. To be honest, I don't know why it blew up like it did. It was a bit overwhelming.
8. Post You Wished Got A Little More Love?
I'm happy with the amount of love I'm receiving from everyone. Everyone is so supportive, and I can't ask for anything more.
9. Best bookish discover (book related sites, book stores, etc.)?
There are two bookstores near where I live: Barnes & Noble and Half Price Books. Both of them are fairly small. I went to Austin, Texas during Thanksgiving Break and went to this place called Book People per my friend's suggestion. Holy cheese puffs that store is HUGE! It's two stories! It might've been three. The third floor was closed the day I visited. For someone who's only been to small bookstores, Book People felt like book heaven.
10.  Did you complete any reading challenges or goals that you had set for yourself at the beginning of this year?
Um. I did set a couple goals but actually didn't achieve any of them…
*crickets chirping*
Moving on!
LOOKING AHEAD
1. One Book You Didn't Get To In 2015 But Will Be Your #1 Priority in 2017?
A Gathering of Shadows by V.E. Schwab
I just really need to read this book. I loved the first book and I have no doubt I will love this one as well. Why I haven't read it yet, I'm not sure. I've been putting it off ever since I got a copy of the ARC.
2. Book You Are Most Anticipating For 2017 (non-debut)?
A Court of Wings and Ruin by Sarah J. Maas
Once again no one is surprised with my answer. After reading ACOMAF, I need the next book. I only have to wait until May… *sigh*
3. 2017 Debut You Are Most Anticipating?
Wires and Nerve, Volume 1 by Marissa Meyer, illustrated by Douglas Holgate
This isn't particularly an author debut, but I'm super excited for Marissa Meyer's new series Wires and Nerve. I love graphic novels and I love Iko from the Lunar Chronicles. Combine those two together to get the Wires and Nerve series.
 4. Series Ending/A Sequel You Are Most Anticipating in 2017?
Throne of Glass #6 by Sarah J. Maas
This is the ending of an epic series. I'm scared but excited for this book, which is coming out sometime in October.
5. One Thing You Hope To Accomplish Or Do In Your Reading/Blogging Life In 2017?
I hope to make my blog better than it was last year. I also hope to read a lot more amazing books this year.
6. A 2017 Release You've Already Read & Recommend To Everyone:
I haven't read any 2017 releases yet so I can't recommend anything.
Until next time….