Title: Flame in the Mist
Series: Flame in the Mist, #1
Author: Renee Ahdieh
Published: 05/16/17
Genre: fantasy, retelling, romance, young adult
Pages: 416
My Rating: 4.5 / 5
Goodreads page
This review is free of the pesky thing also known as spoilers.
Synopsis
The only daughter of a prominent samurai, Mariko has always known she'd been raised for one purpose and one purpose only: to marry. Never mind her cunning, which rivals that of her twin brother, Kenshin, or her skills as an accomplished alchemist. Since Mariko was not born a boy, her fate was sealed the moment she drew her first breath.
So, at just seventeen years old, Mariko is sent to the imperial palace to meet her betrothed, a man she did not choose, for the very first time. But the journey is cut short when Mariko's convoy is viciously attacked by the Black Clan, a dangerous group of bandits who've been hired to kill Mariko before she reaches the palace.
The lone survivor, Mariko narrowly escapes to the woods, where she plots her revenge. Dressed as a peasant boy, she sets out to infiltrate the Black Clan and hunt down those responsible for the target on her back. Once she's within their ranks, though, Mariko finds for the first time she's appreciated for her intellect and abilities. She even finds herself falling in love—a love that will force her to question everything she's ever known about her family, her purpose, and her deepest desires.
(This synopsis is from Goodreads.)
Thoughts
After some digging around, I found out that some people connected Flame in the Mist with the story of Mulan. I don't know the original story, but I have watched the Disney movie adaptation. In fact, Mulan is one of my favorite Disney princess movies. Heck, it's one of my favorite Disney movies of all-time. Mulan is bad-ass, and isn't afraid to go against the norm in order to protect and fight for the ones she love. I respect that. A lot.
I think the general plot of the book was like the Disney Mulan, but there were elements that were unique. For example, the fantasy aspect of how the woods where the Black Clan camps out in is described as one living thing that protects them from intruders wasn't in the Disney movie. At the same time, Mariko was very similar to Mulan because she cut her hair in order to disguise herself as a boy to blend in with a group of fighters.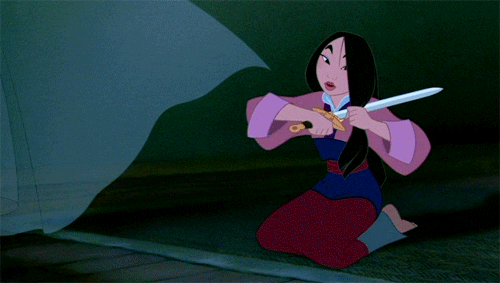 One thing I love about this book is that it's in several different perspectives. It was all in third person, but the narrator focused on different characters' thoughts and feelings in different chapters. The main people were Mariko, Kenshin (her twin), Ranmaru, and Okami.
There was also a side story about the emperor, his mistress, and empress, going on within the book. It didn't pop up often throughout the story, but it's probably going to have more significance in the second book.
The Black Clan is like the Dregs from the Six of Crows duology by Leigh Bardugo because they are a powerful group that takes down the powerful and help the poor. However, they aren't seen as heroes. In fact, sometimes they're considered the villains.
My guess is this series is a duology. I don't think Renee Ahdieh can stretch the story for longer than that, but who knows? She might. I picked up this book on a whim because I didn't know what else to read, and I didn't look into the details. I just thought it was going to be a standalone until I got to the end. Because I don't know the original story, I can't tell if the ending was just a way to extend the story into a series or was actually part of the retelling. Just a fair warning: the ending is a cliff-hanger. Do you hate cliff-hangers? Wait until the second book is released before starting the series.
Characters
Hattori Moriko / Sanada Takeo
SLAY!
Okami "the Wolf"
Your mysterious bad boy with a heart of gold right here.
Yoshi
Honestly, Yoshi was one of my favorite characters. He was the cook for the Black Clan, and he was very kind and energetic. He's like a grandpa who's also your best friend.
Hattori "Dragon of Kai" Kenshin
I'm not sure whether or not I like Kenshin. I'll determine my feelings about him in the second book.
Conclusion
I give this book a 4.5 / 5 BBC Sherlock heads. Loved it!
Until next time….