Heroes are usually celebrated by everyone for their heroism (obviously) and overall awesomeness, but where's the love for the villains? Although they are bad beings, I can't help but love them. Unless you're Professor Umbridge. Then you can burn for all I care. I'm also not a big fan of Voldemort, mainly because he (in my opinion) was pretty bland compared to the rest of the characters.
Sometimes I am more interested in the villain than the protagonist in the story. Take, for example, the trickster god Loki (who is on this list). Between Thor and Loki, I'd rather learn more about the "villain". He just seems much more interesting than Thor (sorry, dude. You're still really cool). There's something about a person who doesn't have many morals that makes them rather intriguing. I'm not saying that they're good people, but they are interesting to watch/read about.
A.I.D.A.N. – The Illuminae Files
AIDAN is an AI (Artificial Intelligence) in the Illuminae Files. His full name is Artificial Intelligence Defence Analytics Network, but AIDAN for short. He controls a ship, but soon is damaged from a battle. It makes him slightly insane in a tech-y way. He is anyone's worst nightmare where an AI goes haywire and starts overpowering everyone and the humans can't do anything about it because the AI controls EVERYTHING. Despite being artificial, his slightly insane tendencies almost make him endearing and you almost feel sorry for him (it?). Is it just me? Am I crazy for liking AIDAN?
Severus Snape – Harry Potter series
He's not your typical villain. I was actually hesitant to put him in this list because I don't really see him as a villain even though he was part of the Deatheaters. He is generally one of my favorite characters in the Harry Potter series because of his complexity and backstory. He's not just black and white. He has some gray in between and that's what makes him not only a great "villain", but also an amazing character. Plus, Alan Rickman did a fantastic job as Snape. I mean, look at that hair.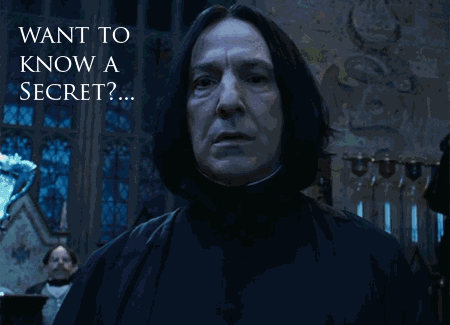 Bellatrix – Harry Potter series
There are two types of villains I tend to like: those with a heart of gold and those who are just pure EVIL. Bellatrix falls in the latter category. She's just crazy. If I had to compare her to a comic book villain, she would be the Harley Quinn of Harry Potter. She's just mad, and it's great. Of course, she's done some unforgivable things, but I still like her as a villain.
Deadpool – Marvel
Deadpool is technically an anti-hero and not a villain but I'm still going to include him in this list. I never read his comics, but I did watch his movie when it came out last year and it was hilarious. I like him for his crass humor. It's refreshing to see a character that isn't always so serious and positive in the Marvel universe.
 Ursula – The Little Mermaid
Ursula is just a poor, unfortunate soul. Ah? See what I did there? Yeah, I'm not proud of myself either. Anywho, she's a kickass female, despite being the villain in the Little Mermaid. She has this unshakable confidence that I can't help but admire.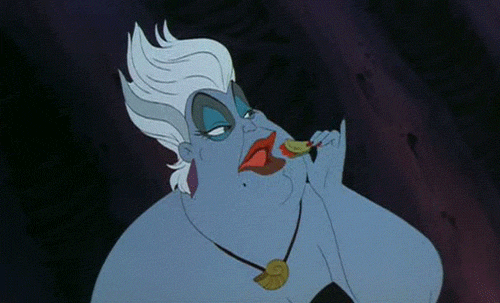 Loki – Marvel
I don't think I need to explain myself here. Loki is just an amazing character.
Moriarty – Sherlock
Oh, Jim from I.T. How you broke the internet when you made your first appearance in Sherlock. Moriarty is the definition of insane, and he's purely evil. But there's this certain aura that he radiates that makes him so lovable. I don't know a single Sherlock fan that doesn't like Moriarty.
Indeed you should.
You're welcome.
If you haven't watched the Sherlock TV show, I highly recommend it to literally EVERYONE!
Do you agree with my list? Disagree?
Who are some of your favorite villains?
If you could have tea/coffee with a certain villain, who would it be?
Until next time….