Do you ever have those instances where you're reading a book and a character is really enjoying some food and you feel kind of jealous? And then while you're reading about food, you get hungry but all you want is that food that the character is eating? Yeah, it happens to me all the time.
Also, I just really love food. I mean, who doesn't? Especially bread. I know it's super bad for you if you eat too much of it but I love the fluffiness and smell and-
Okay I'll stop. I'm getting hungry.
Butterbeer – Harry Potter
This one is a classic. I know that they sell butterbeer at the Harry Potter world in Orlando, but I've never been. Also, I want to know what J.K. Rowling had in mind when she was writing about Harry having butterbeer for the first time. Is it the same exact thing that they serve in Harry Potter world? If it isn't, then what is it supposed to taste like?
Jacob Kowalski's pastries – Fantastic Beasts
I love bread, and I love the wizardry world. All of Jacob's pastries look absolutely delicious, and I want to try them all, especially the Demiguise one. I know this is technically a movie, but I'm still going to put it in the list because the movie was based on the textbook that Newt Scamander wrote so… it counts in my book.
Giggle water – Fantastic Beasts
Honestly, I just want to experience magic, and what better way to do that except with food and drinks? I want to know how the drink forces a person to giggle. It just seems so fascinating and I want to try it out.
Wolf bread – Game of Thrones
Again, I just love any kind of bread. The thing that makes this the most appealing is that the scene where Arya's friend gives her the bread was probably one of the only acts of kindness she experienced in the whole entire show. Plus, it's shaped like a wolf. How cool is that?
Blue food – Percy Jackson
I like the color blue, and I want to know how the heck Percy's mom was able to make only blue food for Percy. Food coloring can only go so far…
All the soups – The Hunger Games
If I remember correctly, in the second book Catching Fire, Katniss was at some kind of buffet. She was intrigued by all the different kinds of soups, and the way that Suzanne Collins described them made me super hungry. I don't eat a lot of soup, but I'm down to trying some new ones.
"Eat me" cake – Alice in Wonderland
Does it taste the same as a normal cake? Also, for a more selfish reason, I want to be slightly taller. I'm on the shorter side of the spectrum (or as my friends like to say, I'm "fun sized"), and I want to know what it feels like to be tall. Not that I hate being short, but it would be cool to know the struggles of people of different heights.
The grey stuff – Beauty and the Beast
From the song Be Our Guest, Lumière had a line where he said "try the grey stuff. It's delicious!" From the animated movie, I can't really tell what the grey stuff is and I'm super curious as to what makes it so delicious. I'm sure you can find it in one of the Disney theme parks, but I've never been there before so I wouldn't know. It's the same thing with the butterbeer. Is the food in the theme park the same thing as the one in the movies? What did the author/writers have in mind when they wrote this line?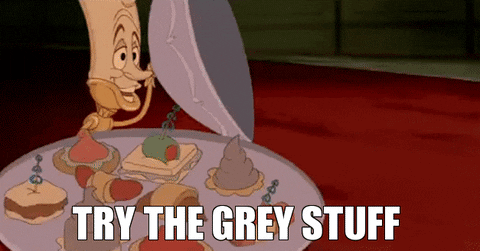 What are some fictional foods you want to try?
Are you a person who eats to live or lives to eat?
What is your favorite food/drink to consume while you're reading?
Until next time….