After having posted daily all of last week, I kind of want to do something easy, so what better thing do to than an award?
I was tagged by the lovely Michelle over at First Book Love. Thanks so much for nominating me! It means a lot. Don't forget to check out her blog and give her some love!
What is the Sunshine Blogger Award?
The Sunshine Blogger Award is given to those who are creative, positive, and inspiring while spreading sunshine to the blogging community.
The Rules for the Sunshine Blogger Award:
Thank the person who nominated you and link back to their fabulous blog
Answer the 11 questions sent by the person who nominated you
Nominate 11 new blogs to receive the award and write them 11 new questions to answer
List the rules and display the Sunshine Blogger Award logo in the post
1. If you could only read one book for the rest of your life, what would it be?
I know I'm cheating a little bit but the ebook containing all of the Harry Potter books. That series is classic and will never become boring in my eyes.
2. Favorite colour?
Any shade of blue!
3. What are your most anticipated books coming out soon?
The next Wires and Nerve volume is coming out in January of 2018, and I can't wait to read more about Iko's adventures!
4. Which author's books would you buy straightaway without reading the synopsis?
Sarah J. Maas. All her books are works of art.
5. Have you bought any books based on the cover? Name a few!
I'm a sucker for a beautiful cover. Recently, I bought The Complete Sherlock Holmes not only because it had most (if not all?) the stories of Sherlock Holmes but also because the whole outside of the book is gorgeous.
6. What is your favorite bookish merchandise?
I don't own a lot of merch, but one of my favorites to collect is the Funko Pop figurines of my favorite characters. So far, I have Snape from Harry Potter, Moriarty from Sherlock, and Eleven from Stranger Things.
7. What Harry Potter House do you belong to?
Hufflepuff!
8. Favorite book series of all time?
Harry Potter is an obvious first choice. The Percy Jackson series and Throne of Glass are tied as my second most favorite book series.
9. What are you currently reading?
Renegades by Marissa Meyer! This book reminds me why I don't usually borrow long chapter books from the library. The copy I'm reading is from my local public library, and as a slow reader, it's a lot of pressure to finish a book in two weeks. There is a long line of people waiting to read this book after me, so if I want to finish the book, I need to finish it before my two weeks are up.
10. Where is your favorite spot to take bookstagrams/photos?

I don't really take photos of my books. The only time I do is for my seasonal book hauls, and most of the pictures I take for those are in my room during either the morning or middle of the day when there's enough natural light out that I don't have to bust out all the lamps in the house. The picture I'm most proud of taking is the one I did for A Court of Mist and Fury (pictured below).
11. If you could have a meal with any fictional character, who would it be and why?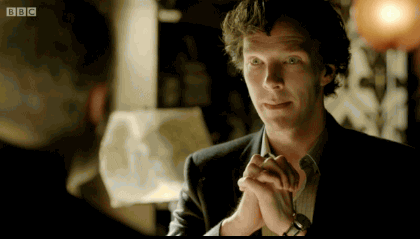 Probably Sherlock Holmes. I think he would be an interesting human being to have a meal with. Although I think I would be slightly uncomfortable as he reads me like an open book but I will probably remember our conversation for the rest of my life because it's so bizarre.
I nominate…
Michelle @ The Writing Hufflepuff
Dani @ Perspective of a Writer
My Questions
1. If you could turn into one mystical creature, which would you choose?
2. Hardcover, paperback, or ebook?
3. What Harry Potter house are you in?
4. What is the most bizarre thing you've used as a bookmark?
5. Favorite food from outside your own culture?
6. Where is one place (fictional or real) you wish you can visit?
7. Any bookish pet peeves?
8. Favorite book of 2017 so far?
9. Do you stop in the middle of a book if you don't like it or do you power through it?
10. Any favorite TV shows or movies?
11. What is one book/series you would like to recommend to everyone?
Until next time….