2017 is coming to an end… and thank goodness for that. It's been a rough year, to say the least, but that didn't stop me from reading some pretty freaking awesome books. I didn't read as much as I wanted to this year, but that just means I'm going to try extra hard in 2018 to get to all the books I want to read.
Too many books, not enough time, am I right?
10. Wires and Nerve, Volume 1 by Marissa Meyer, illustrated by Douglas Holgate 
I read a lot of graphic novels this year, and Wires and Nerve was one of my favorites. I wanted more of the Lunar Chronicles world after that unsatisfactory ending of the final installment in the original series. Wires and Nerve is a continuation of the story after Winter, but it focuses more on one of the side characters, Iko, who happens to be one of my favorite characters. She's has some spunk to her, despite basically being an AI. (review)
9. Big Mushy Happy Lump (Sarah's Scribbles, #2) by Sarah Anderson
I love Sarah Anderson's comics. I read her first compilation, Adulthood is a Myth, a year or so ago and totally fell in love with her comics. I follow her on a lot of her social medias and frequently read the comics she posts. Her comics make me laugh because of how relatable they are. She is awkward, quirky, and loves book! What more can I ask in a comic?
8. Legend (Legend, #1) by Marie Lu
I decided to reread Legend because I at the time I met Marie Lu and meeting her inspired me to so. I don't tend to reread a lot of books because of my long TBR list, but it was nice to revisit a world I grew to love. Reading the story again reminded me just how young the main characters are (they're 16 at the start of the story!) Since this was a reread, I didn't put it too high up on my top 10 list because I wanted to give the new books I read a chance. (review)
7. Civil War II (Ms. Marvel, Vol. 6) by G. Willow Wilson, illustrated by Takeshi Miyazawa and Adrian Alphona
I don't tend to put graphic novels in my top 10 list, but I really liked the topic that this volume of Ms. Marvel tackles. It talks about how we shouldn't completely blindly follow our leaders and how superheroes make bad decisions too. Children tend to idolize their heroes, whether they be fictional or real, and are blind to the mistakes they make. The main character, Kamala (a.k.a. Ms. Marvel), learns the lesson that although there might be good intentions behind actions, there are some things that superheros are not meant to try and change.
6. Renegades (Renegades, #1) by Marissa Meyer
Despite the mixed reviews, I actually really enjoyed Renegades. Did I enjoy it as much as I enjoyed Marissa Meyer's other series, The Lunar Chronicles? No. Did I still really like the story? Yes. I liked how the story was mainly in the point of view of the "villain" of the story. I also like how the story touched on the topic of how not all superheros are good, and even went as far as questioning the need for them. I saw a lot of realist elements in Nova (the main character) that I often times see in myself. In general, it's a super fun story and I love the concept of different superpowers. It almost reminds me of Avatar: The Last Airbender in that sense. (review)
5. A Court of Wings and Ruin (A Court of Thorns and Roses, #3) by Sarah J. Maas
I did not like this book as much as I thought I would. I definitely did enjoy the story, but I had some problems with the plot and the outcome. The ending left me with more questions than answers, and I felt very unsure about some of the romantic relationships that were forming. I don't want to get into the details because of spoilers but let's just say that although parts of the books were rather disappointing, I did still really enjoy reading it. (review)
4. Flame in the Mist (Flame in the Mist, #1) by Renee Ahdieh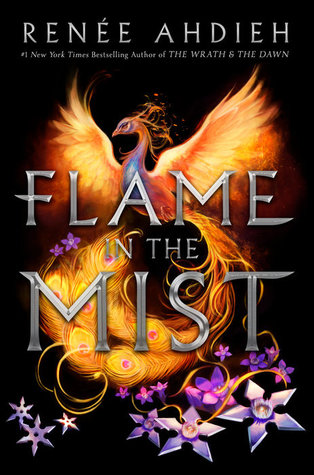 I like retelling of any stories, and Flame in the Mist is loosely based on feudal Japan and some people related to story to Mulan (yes, I know Mulan is Chinese and not Japanese, but I did see some similarities throughout the story). I liked how the story was not set in European country/America, and instead is set in Japan. A lot of the YA books that are written in English are set in English-speaking countries. It's nice to see a book set in a country with a different culture than what I grew up in, and I hope there are more books like this one in the near future. (review)
3. Gemina (The Illuminae Files, #2) by Amie Kaufman and Jay Kristoff
I loved this book. I never thought the Illuminae Files series would get any better because the first book set the bar pretty high but the new element of Marie Lu's illustrations took it to a new level. It really felt like the reader was looking at files and journals to piece together the story. I also really like the introduction of new characters, especially Nik. His personality reminds me of Cassian from the A Court of Thorns and Roses series. He's a total flirt, and he provides the much needed comedic relief in the story. If you like anything sci-fi, I think you'd like this series. (review)
2. Born a Crime by Trevor Noah
I don't normally read memoirs or anything not YA fantasy, but I got the audiobook version for free, so I thought why the heck not listen to it? I like Trevor Noah as a comedian, so I was interested as to see what he had to say about his life. I put this high up on my top 10 list because of the life lessons that he incorporated into the stories. He had some good advice that I know utilize. One thing that struck with me was his talk about regret. He said he didn't regret much, but he did regret not trying. Although I fear failure and rejection, I've been trying to get past my insecurities and try things that take me out of my comfort zone because of this book. (review)
1. Crooked Kingdom (Six of Crows, #2) by Leigh Bardugo

Funny enough, the first book I read this year was the best book I read this year. I didn't think the Six of Crows series could get any better after the first book, but Leigh Bardugo proved me wrong. I thought the first book was intense, but this one was INTENSE. You thought the Dregs pulled an impossible heist in the first book but wait until the second book where they try and pull a seemingly more impossible stunt. It's too bad that Leigh Bardugo decided to make this series a duology and Crooked Kingdom is the last book in the series. (review)
What are your top books you read this year?
What are some of the worst books you read this year?
What are your reading goals of next year?
Until next time….