Wow, what a year 2017 has been! It's definitely had it's ups and downs.
Reading-wise, December was an okay month. Thanks to the little break I have, I've had more time to catch up on my reading. However, I spent most of the time just sleeping (because who doesn't like sleep?).
It's weird to think that this is the last day of the year…
I hope everyone's 2017 was fantastic and here's to an even better year! ❤
Books Read This Month:
Title: Saga, Vol. 6
Series: Saga, Vol. 6
Author: Brian K. Vaughan
Artist: Fiona Staples
Genre: graphic novel, fantasy, adult
Read: 12/15/17
Goodreads: link
Rating:  4 / 5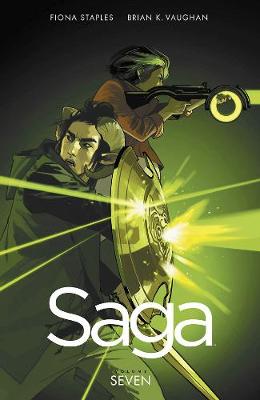 Title: Saga, Vol. 7
Series: Saga, Vol. 7
Author: Brian K. Vaughan
Artist: Fiona Staples
Genre: graphic novel, fantasy, adult
Read: 12/15/17
Goodreads: link
Rating:  4 / 5
Title: Renegades
Series: Renegades, #1
Author: Marissa Meyer
Genre: YA, fantasy, superhero
Read: 12/26/17
Review: click here
Goodreads: link
Rating:  4 / 5
Currently Reading
Everything All At Once by Bill Nye
Devil in the White City by Erik Larson
Reviews
Awakening (Monstress, Vol. 1) by Marjorie M. Liu, illustrated by Sana Takeda
Renegades (Renegades, #1) by Marissa Meyer
Tags/Awards
(none this month)
Bookish Posts
Kiss, Marry, Kill: ACOTAR edition
Top 10 Worst Characters to Invite Over During the Holidays
Other
Day 861 – Happy Holidays! (2017 Recap & 2018 Plans)
Life Wrap-Up
Frankly, December was a blur for me. After Thanksgiving, the time flew by and now it's already the last day of 2017. I'm still recovering from trying to find gifts for all my friends and family. Let me tell you, do not ever go to Target the weekend before Christmas.
I planned to get Christmas presents the first weekend of December but I was busy every weekend leading up to Christmas. Then maybe three days before Christmas I decided that I needed to set aside all my homework and get some presents because there were a limited amount of days left.
I love Target, and it has a wide range of things that you can buy there, so that was my first stop. And that was a mistake. I normally park in the back because I'm still not quite comfortable parking in the front near other cars. This time, I was forced to park near other cars because there were barely any free spots.
I got into the store, and there were only a few shopping carts left. Now, let me tell you, the nearest Target to my house is a rather big one, and normally they have a lot of shopping carts. But because there were so many people Christmas shopping (because I swear everyone is a procrastinator), there were only a handful left. I opted out on getting a shopping cart because it would be hard to maneuver around the store because everyone had a shopping cart with them.
Of course, at the store, I always check out the book section to see if they have anything new (they didn't), and it just so happens that the book section is right next to the toy section. It was a nightmare to get through.
I didn't have too hard of a time finding things, but many of your typical holidays presents (like fuzzy socks) were all sold out. I never thought I'd see a day that Target would run out of fuzzy socks, but they did.
Anyway, thankfully I got all the stuff I needed (except for the fuzzy socks…) and was able to give everyone their gift on time.
Lesson learned: don't procrastinate and get your Christmas shopping done early… or just order things online
Until next time….