The new year brings new resolutions, and that means it's time for me to make new goals for myself. I don't really like calling them resolutions because the definition sounds restrictive.
Just for reference, the definition I read of "resolution" on the internet was this:
a firm decision to do or not to do something
I don't know about you, but that sounds like an ultimatum to me. It's like I have to decide whether or not I want to proceed with a certain habit and it will be a life or death decision. In reality, it's not that big of a deal, but it's still rather important. That's why I'm going to refer to my "resolutions" as "goals" instead. It sounds more achievable and more forgiving.
Book-Related Goals
Read more books!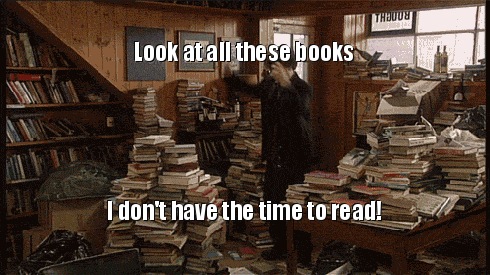 I think this is every reader's basic goal. I have loads of books I want to read and not enough time, but that's not going to stop me from wanting to read. My Goodreads Reading Goal this year is 40 books, which is roughly 3-4 books a month. Let's see if I'm actually going to keep up with that pace….
Read different genres other than fantasy
I read a lot of fantasy books. I would say that 95% of the books I read are in the fantasy genre. Frankly, it's a little bit sad. I need to branch out a bit. Read a little contemporary. Read some historical books. Read memoirs and poetry. Get out of my comfort zone.
Don't force myself to read books I don't like
DNF… I hate shelving books in my did-not-finish (DNF) pile. I always feel like I didn't try enough with the book. However, there are so many books out there in the world that are waiting to be read that I now don't feel like it's worth it to waste my time reading a book I'm not enjoying when I could be reading something I'd like.
Spend less on books
Physical copies of books are a treat. I love reading the physical copies of books, but they can be very pricey and I have no more room on my bookshelf.
Personal Goals
Prioritize my health (mental and physical)
My lack of good physical health mainly comes from my lack of sleep. My sleep deprivation is also affecting my mental health, but it's also a combination of stress from school and social life. I need to take better care of myself.
Be more forgiving
I don't have a forgiving nature… I hold grudges a lot, especially against myself. I need to be more forgiving toward others and myself.
Learn to not cave into the cravings
Ever seen a hungry monster? Yeah, that is me. I crave food all the dang time and no self control, which causes me to overeat. I'm going to try and not overeating this year.
What are some of your goals for the new year?
What are some of the books you plan to read?
Until next time….