I don't know about you, but I'm currently on a To All the Boys I've Loved Before high right now. After watching the movie, Peter and Lara Jean are all I can think about.

(I probably won't stop fangirling about them for a while. Just a warning. Speaking of fangirling about Noah and Lana, I read this Buzzfeed article about them and I honestly can't handle how cute they are together. Just when you don't think they could get any cuter they hit you with something like this.)
Anyway, I wanted to suggest some books for those who are looking for some cute book relationships after watching/reading To All the Boys I've Loved Before. Girl (or guy), I get it. I can't handle the adorable-ness either.
Some of these book/series are mega popular and you've probably already read them, but I hope you find some gems in here that you haven't tried out.
The Lunar Chronicles by Marissa Meyer
This is a pretty well-known series in the YA genre, so if you've already read this, I wouldn't be surprised. If you haven't, I highly suggest it. Not only is the romance between the characters great, but also the story in general is captivating. This series revolves around different fairy tales, so it makes sense that there's romance in them.
Blurb: A forbidden romance.
A deadly plague.
Earth's fate hinges on one girl . . .
CINDER, a gifted mechanic in New Beijing, is also a cyborg. She's reviled by her stepmother and blamed for her stepsister's sudden illness. But when her life becomes entwined with the handsome Prince Kai's, she finds herself at the centre of a violent struggle between the desires of an evil queen – and a dangerous temptation.
Cinder is caught between duty and freedom, loyalty and betrayal. Now she must uncover secrets about her mysterious past in order to protect Earth's future.
This is not the fairytale you remember. But it's one you won't forget.
A Court of Thorns and Roses series by Sarah J. Maas
I know the title of this post is nine YA books with cute romances, but I had to include this one. The A Court of Thorns and Roses series is labelled as YA, but it's more on the mature side of YA. I suggest that you're at least 16 and up before picking up this novel because there are some sexy times in there that might not be so suitable for younger readers. That being said, the romance in here is fantastic. There are moments in the relationship between Feyre, the main protagonist, and her partner that makes me feel so warm and fuzzy sometimes. The things he would do for her to make her smile has me swooning. Their banters in later books just makes me so happy that they're together.
Blurb: Feyre's survival rests upon her ability to hunt and kill – the forest where she lives is a cold, bleak place in the long winter months. So when she spots a deer in the forest being pursued by a wolf, she cannot resist fighting it for the flesh. But to do so, she must kill the predator and killing something so precious comes at a price …
Dragged to a magical kingdom for the murder of a faerie, Feyre discovers that her captor, his face obscured by a jewelled mask, is hiding far more than his piercing green eyes would suggest. Feyre's presence at the court is closely guarded, and as she begins to learn why, her feelings for him turn from hostility to passion and the faerie lands become an even more dangerous place. Feyre must fight to break an ancient curse, or she will lose him forever.
Simon vs the Homo Sapiens Agenda by Becky Albertalli
I think everyone and their mother has at least seen the movie adaptation to this story. If you have not read the book, I highly recommend you do because everything in this book is wholesome. The relationship that Simon has with his certain someone makes you want to hug a pillow and squeal.
Blurb: Sixteen-year-old and not-so-openly gay Simon Spier prefers to save his drama for the school musical. But when an email falls into the wrong hands, his secret is at risk of being thrust into the spotlight. Now Simon is actually being blackmailed: if he doesn't play wingman for class clown Martin, his sexual identity will become everyone's business. Worse, the privacy of Blue, the pen name of the boy he's been emailing, will be compromised.
With some messy dynamics emerging in his once tight-knit group of friends, and his email correspondence with Blue growing more flirtatious every day, Simon's junior year has suddenly gotten all kinds of complicated. Now, change-averse Simon has to find a way to step out of his comfort zone before he's pushed out—without alienating his friends, compromising himself, or fumbling a shot at happiness with the most confusing, adorable guy he's never met.
Little Moments of Love by Catana Chetwynd
I follow this artist on Instagram, and her little comics about her relationship with her boyfriend always made my day. This book is a collection of some of her old comics (and some exclusive to the book itself), and it's bound to put a little warm smile on your face.
Blurb: Soppy meets Sarah's Scribbles in this sweet collection of comics about the simple, precious, silly, everyday moments that make up a relationship.
What began as stray doodles on scraps of paper became an internet sensation when Catana Chetwynd's boyfriend shared her drawings online. Now, Catana Comics touches millions of readers with its sweet, relatable humor. Little Moments of Lovecollects just that – the little moments that are the best parts of being with the person you love.
Fangirl by Rainbow Rowell
Like many of the books on this list, Fangirl is a very wholesome story. Cath's relationship with Levi is cutesy. I just want to bundle them both up in a fuzzy blanket burrito and hug them until they understand how much I love them. That's how cute their relationship is.
Blurb: Cath is a Simon Snow fan.
Okay, the whole world is a Simon Snow fan…
But for Cath, being a fan is her life—and she's really good at it. She and her twin sister, Wren, ensconced themselves in the Simon Snow series when they were just kids; it's what got them through their mother leaving. Reading. Rereading. Hanging out in Simon Snow forums, writing Simon Snow fan fiction, dressing up like the characters for every movie premiere. Cath's sister has mostly grown away from fandom, but Cath can't let go. She doesn't want to.
Now that they're going to college, Wren has told Cath she doesn't want to be roommates. Cath is on her own, completely outside of her comfort zone. She's got a surly roommate with a charming, always-around boyfriend, a fiction-writing professor who thinks fan fiction is the end of the civilized world, a handsome classmate who only wants to talk about words… And she can't stop worrying about her dad, who's loving and fragile and has never really been alone.
For Cath, the question is: Can she do this? Can she make it without Wren holding her hand? Is she ready to start living her own life? Writing her own stories?
And does she even want to move on if it means leaving Simon Snow behind?
Carry On by Rainbow Rowell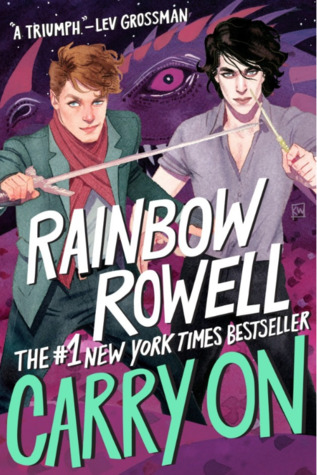 This is the story that Cath from Fangirl is obsessed with. I have to admit, after reading this, I can imagine why she loves this story. The story itself reminds me a lot of Harry Potter (which I highlight in my review). After reading this book, I can understand why Cath ships Simon with that certain character. They're so cute together.
Blurb: Simon Snow is the worst Chosen One who's ever been chosen.
That's what his roommate, Baz, says. And Baz might be evil and a vampire and a complete git, but he's probably right.
Half the time, Simon can't even make his wand work, and the other half, he starts something on fire. His mentor's avoiding him, his girlfriend broke up with him, and there's a magic-eating monster running around, wearing Simon's face. Baz would be having a field day with all this, if he were here — it's their last year at the Watford School of Magicks, and Simon's infuriating nemesis didn't even bother to show up.
Carry On – The Rise and Fall of Simon Snow is a ghost story, a love story and a mystery. It has just as much kissing and talking as you'd expect from a Rainbow Rowell story – but far, far more monsters.
Jackaby series by William Ritter

Romance isn't the focal point in this series, but there is a blooming romance between two of the characters. I'm not going to say who because that might spoil a couple things. At the point where I'm at in this series things are slowly kicking off between them and I live for the brief moments they have together. They're kind of awkward with each other, but it's cute.
Blurb: "Miss Rook, I am not an occultist," Jackaby said. "I have a gift that allows me to see truth where others see the illusion–and there are many illusions. All the world's a stage, as they say, and I seem to have the only seat in the house with a view behind the curtain."
Newly arrived in New Fiddleham, New England, 1892, and in need of a job, Abigail Rook meets R. F. Jackaby, an investigator of the unexplained with a keen eye for the extraordinary–including the ability to see supernatural beings. Abigail has a gift for noticing ordinary but important details, which makes her perfect for the position of Jackaby's assistant. On her first day, Abigail finds herself in the midst of a thrilling case: A serial killer is on the loose. The police are convinced it's an ordinary villain, but Jackaby is certain it's a nonhuman creature, whose existence the police–with the exception of a handsome young detective named Charlie Cane–deny.
Doctor Who meets Sherlock in William Ritter's debut novel, which features a detective of the paranormal as seen through the eyes of his adventurous and intelligent assistant in a tale brimming with cheeky humor and a dose of the macabre.
The Illuminae Files by Amie Kaufman and Jay Kristoff
This series is sort of focused on romance but more on surviving space. Because this series is a collection of text messages, footage briefing, sketches, etc. the reader gets to experience the private conversations between the characters, making it more intimate. The little banters between Kady and Ezra brings some light into the story despite their situation being rather bleak. Each book in the series follows a different set of characters, but they slowly start to merge starting the second book. Basically, it's three couples for triple the fun!
Blurb: This morning, Kady thought breaking up with Ezra was the hardest thing she'd have to do. This afternoon, her planet was invaded.
The year is 2575, and two rival megacorporations are at war over a planet that's little more than an ice-covered speck at the edge of the universe. Too bad nobody thought to warn the people living on it. With enemy fire raining down on them, Kady and Ezra—who are barely even talking to each other—are forced to fight their way onto an evacuating fleet, with an enemy warship in hot pursuit.
But their problems are just getting started. A deadly plague has broken out and is mutating, with terrifying results; the fleet's AI, which should be protecting them, may actually be their enemy; and nobody in charge will say what's really going on. As Kady hacks into a tangled web of data to find the truth, it's clear only one person can help her bring it all to light: the ex-boyfriend she swore she'd never speak to again.
BRIEFING NOTE: Told through a fascinating dossier of hacked documents—including emails, schematics, military files, IMs, medical reports, interviews, and more—Illuminae is the first book in a heart-stopping, high-octane trilogy about lives interrupted, the price of truth, and the courage of everyday heroes.
Lux series by Jennifer L. Armentrout
I don't think this series gets enough attention because I love this series. I don't know what it is about Jennifer L. Armentrout's writing, but it's addicting. I consumed this series so fast that it was kind of scary. I love the relationship between Kat and Daemon. Kat is the book worm and Daemon is… well… Daemon. He's cocky, but he's sweet on the inside.
Blurb: Starting over sucks.
When we moved to West Virginia right before my senior year, I'd pretty much resigned myself to thick accents, dodgy internet access, and a whole lot of boring… until I spotted my hot neighbor, with his looming height and eerie green eyes. Things were looking up.
And then he opened his mouth.
Daemon is infuriating. Arrogant. Stab-worthy. We do not get along. At all. But when a stranger attacks me and Daemon literally freezes time with a wave of his hand, well, something… unexpected happens.
The hot alien living next door marks me.
You heard me. Alien. Turns out Daemon and his sister have a galaxy of enemies wanting to steal their abilities, and Daemon's touch has me lit up like the Vegas Strip. The only way I'm getting out of this alive is by sticking close to Daemon until my alien mojo fades.
If I don't kill him first, that is.
Until next time….