This is week 2 of my adventure of cleaning out my TBR to really tailor it to my preferences. I'm not sure how long this is going to take at the rate I'm going, but I hope to be done cleaning out my TBR by the end of this year. We'll see if that happens.
Here are the rules to the "cleanse":
Choose the first 10 books in your TBR list.
Read the blurb.
Decide whether to keep it or "kick" it out of the list.
Repeat with the next 10 books every week until you go through the whole list.
(All the blurbs were taken from Goodreads.)
Don't Look Back by Jennifer L. Armentrout
Blurb: Samantha is a stranger in her own life. Until the night she disappeared with her best friend, Cassie, everyone said Sam had it all – popularity, wealth, and a dream boyfriend.
Sam has resurfaced, but she has no recollection of who she was or what happened to her that night. As she tries to piece together her life from before, she realizes it's one she no longer wants any part of. The old Sam took "mean girl" to a whole new level, and it's clear she and Cassie were more like best enemies. Sam is pretty sure that losing her memories is like winning the lottery. She's getting a second chance at being a better daughter, sister, and friend, and she's falling hard for Carson Ortiz, a boy who has always looked out for her-even if the old Sam treated him like trash.
But Cassie is still missing, and the truth about what happened to her that night isn't just buried deep inside of Sam's memory – someone else knows, someone who wants to make sure Sam stays quiet. All Sam wants is the truth, and if she can unlock her clouded memories of that fateful night, she can finally move on. But what if not remembering is the only thing keeping Sam alive?
Verdict: Keep. This book might sound a bit more creepy than I like, but I love Jennifer L. Armentrout's books. I devour them as fast as I devour sweets. Although this premise might not interest me too much, I want to keep it in my TBR for when I need my Jennifer L. Armentrout fix.
Maus I: A Survivor's Tale: My Father Bleeds History by Art Spiegelman
Blurb: A story of a Jewish survivor of Hitler's Europe and his son, a cartoonist who tries to come to terms with his father's story and history itself.
Verdict: Kick. I used to be interested in reading all about World War II a couple years ago but now the stories are too depressing to read. I have found myself not being able to finish WWII stories (especially the ones that are true) recently because of the sheer weight it put on my heart. I can't even imagine what those who went through WWII feel when I can barely handle the horrors through their stories.
Legend: The Graphic Novel by Marie Lu
Blurb: Born into an elite family in one of the Republic's wealthiest districts, fifteen-year-old June is a military prodigy. Born into the slums of the Republic's Lake Sector, fifteen-year-old Day is the country's most wanted criminal. But his motives are not as sinister as they often seem. One day June's brother is murdered and Day becomes the prime suspect. Now, Day is in a race for his family's survival, while June tries desperately to avenge her brother's death. And the two uncover the truth of what has really brought them together and the lengths their country will go to in order to keep its secrets.
Verdict: Keep. I like reading graphic novels, and I've already read the graphic novel version of Champion, so why not read the first two books?
Kingdom of Ash by Sarah J. Maas
Blurb: (This is the last book in the Throne of Glass series, so if you don't want to spoiled then skip this summary.) Aelin Galathynius's journey from slave to king's assassin to the queen of a once-great kingdom reaches its heart-rending finale as war erupts across her world…
Aelin has risked everything to save her people―but at a tremendous cost. Locked within an iron coffin by the Queen of the Fae, Aelin must draw upon her fiery will as she endures months of torture. Aware that yielding to Maeve will doom those she loves keeps her from breaking, though her resolve begins to unravel with each passing day…
With Aelin captured, Aedion and Lysandra remain the last line of defense to protect Terrasen from utter destruction. Yet they soon realize that the many allies they've gathered to battle Erawan's hordes might not be enough to save them. Scattered across the continent and racing against time, Chaol, Manon, and Dorian are forced to forge their own paths to meet their fates. Hanging in the balance is any hope of salvation―and a better world.
And across the sea, his companions unwavering beside him, Rowan hunts to find his captured wife and queen―before she is lost to him forever.
As the threads of fate weave together at last, all must fight, if they are to have a chance at a future. Some bonds will grow even deeper, while others will be severed forever in the explosive final chapter of the Throne of Glass series.
Verdict: KEEP! I'm terrified that the end of the series is so close. I don't want the series to end but I'm still super excited to read it.
Crimson Bound by Rosamund Hodge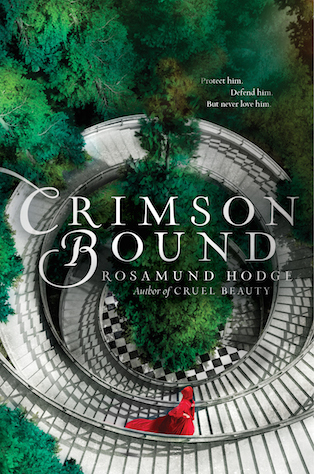 Blurb: When Rachelle was fifteen, she was good—apprenticed to her aunt and in training to protect her village from dark magic. But she was also reckless—straying from the forest path in search of a way to free her world from the threat of eternal darkness. After an illicit meeting goes dreadfully wrong, Rachelle is forced to make a terrible choice that binds her to the very evil she had hoped to defeat.
Three years later, Rachelle has given her life to serving the realm, fighting deadly creatures in an effort to atone. When the king orders her to guard his son Armand—the man she hates most—Rachelle forces Armand to help her hunt for the legendary sword that might save their world. Together, they navigate the opulent world of the courtly elite, where beauty and power reign and no one can be trusted. And as they become unexpected allies, they discover far-reaching conspiracies, hidden magic, and a love that may be their undoing. In a palace built on unbelievable wealth and dangerous secrets, can Rachelle discover the truth and stop the fall of endless night?
Inspired by the classic fairy tale Little Red Riding Hood, Crimson Bound is an exhilarating tale of darkness, love, and redemption.
Verdict: Kick. I've read Cruel Beauty by the same author and wasn't a fan. It was alright, but not enough to hook me into the world and series. Although I love reading fairy tale retellings, this one doesn't interest me.
Rebel Belle by Rachel Hawkins
Blurb: Harper Price, peerless Southern belle, was born ready for a Homecoming tiara. But after a strange run-in at the dance imbues her with incredible abilities, Harper's destiny takes a turn for the seriously weird. She becomes a Paladin, one of an ancient line of guardians with agility, super strength and lethal fighting instincts. Just when life can't get any more disastrously crazy, Harper finds out who she's charged to protect: David Stark, school reporter, subject of a mysterious prophecy and possibly Harper's least favorite person. But things get complicated when Harper starts falling for him–and discovers that David's own fate could very well be to destroy Earth.
With snappy banter, cotillion dresses, non-stop action and a touch of magic, this new young adult series from bestseller Rachel Hawkins is going to make y'all beg for more.
Verdict: Keep! This seems like a fun and adventurous book.
Lips Touch: Three Times by Laini Taylor
Blurb: Three tales of supernatural love, each pivoting on a kiss that is no mere kiss, but an action with profound consequences for the kissers' souls:
Goblin Fruit
In Victorian times, goblin men had only to offer young girls sumptuous fruits to tempt them to sell their souls. But what does it take to tempt today's savvy girls?
Spicy Little Curses
A demon and the ambassador to Hell tussle over the soul of a beautiful English girl in India. Matters become complicated when she falls in love and decides to test her curse.
Hatchling
Six days before Esme's fourteenth birthday, her left eye turns from brown to blue. She little suspects what the change heralds, but her small safe life begins to unravel at once. What does the beautiful, fanged man want with her, and how is her fate connected to a mysterious race of demons?
Verdict: Keep. Laini Taylor's writing is lyrical, and I'm intrigued on how these stories pan out.
Code Name Verity by Elizabeth E. Wein
Blurb: Oct. 11th, 1943 – A British spy plane crashes in Nazi-occupied France. Its pilot and passenger are best friends. One of the girls has a chance at survival. The other has lost the game before it's barely begun.
When "Verity" is arrested by the Gestapo, she's sure she doesn't stand a chance. As a secret agent captured in enemy territory, she's living a spy's worst nightmare. Her Nazi interrogators give her a simple choice: reveal her mission or face a grisly execution.
As she intricately weaves her confession, Verity uncovers her past, how she became friends with the pilot Maddie, and why she left Maddie in the wrecked fuselage of their plane. On each new scrap of paper, Verity battles for her life, confronting her views on courage and failure and her desperate hope to make it home. But will trading her secrets be enough to save her from the enemy?
Harrowing and beautifully written, Elizabeth Wein creates a visceral read of danger, resolve, and survival that shows just how far true friends will go to save each other. Code Name Verity is an outstanding novel that will stick with you long after the last page.
Verdict: Keep. I feel sort of obligated to keep this on my TBR. This is one of those classic YA books that everyone just needs to read. I've heard nothing but raving reviews for this book, and although I'm steering clear of WWII books for now, I might pick it up in the future when I'm in the mood… we'll see.
The Archived by Victoria Schwab
Blurb: Imagine a place where the dead rest on shelves like books.
Each body has a story to tell, a life seen in pictures only Librarians can read. The dead are called Histories, and the vast realm in which they rest is the Archive.
Da first brought Mackenzie Bishop here four years ago, when she was twelve years old, frightened but determined to prove herself. Now Da is dead, and Mac has grown into what he once was: a ruthless Keeper, tasked with stopping often violent Histories from waking up and getting out. Because of her job, she lies to the people she loves, and she knows fear for what it is: a useful tool for staying alive.
Being a Keeper isn't just dangerous—it's a constant reminder of those Mac has lost, Da's death was hard enough, but now that her little brother is gone too, Mac starts to wonder about the boundary between living and dying, sleeping and waking. In the Archive, the dead must never be disturbed. And yet, someone is deliberately altering Histories, erasing essential chapters. Unless Mac can piece together what remains, the Archive itself may crumble and fall.
In this haunting, richly imagined novel, Victoria Schwab reveals the thin lines between past and present, love and pain, trust and deceit, unbearable loss and hard-won redemption.
Verdict: Kick. I remember adding this to my TBR because Jesse from Jessethereader on YouTube always raved about it, but I'm not too sure I want to read this one anymore. The premise doesn't grab my attention like I want it to.
The Scorpio Races by Maggie Stiefvater
Blurb: It happens at the start of every November: the Scorpio Races. Riders attempt to keep hold of their water horses long enough to make it to the finish line. Some riders live. Others die.
At age nineteen, Sean Kendrick is the returning champion. He is a young man of few words, and if he has any fears, he keeps them buried deep, where no one else can see them.
Puck Connolly is different. She never meant to ride in the Scorpio Races. But fate hasn't given her much of a chance. So she enters the competition — the first girl ever to do so. She is in no way prepared for what is going to happen.
Verdict: Keep. While I was planning this post out, I thought I was going to kick this book out of my TBR. Now that I've reread the blurb, I think I'm going to keep it. Seems like a fun book to read.
Until next time….