I'm surprised I lasted this long, but here's week 4!
Here are the rules to the "cleanse":
Choose the first 10 books in your TBR list.
Read the blurb.
Decide whether to keep it or "kick" it out of the list.
Repeat with the next 10 books every week until you go through the whole list.
(All the blurbs were taken from Goodreads.)
Dream a Little Dream by Kerstin Gier
Blurb: Mysterious doors with lizard-head knobs. Talking stone statues. A crazy girl with a hatchet. Yes, Liv's dreams have been pretty weird lately. Especially the one where she's in a graveyard at night, watching four boys conduct dark magic rituals.
The strangest part is that Liv recognizes the boys in her dream. They're classmates from her new school in London, the school where she's starting over because her mom has moved them to a new country (again). But what's really scaring Liv is that the dream boys seem to know things about her in real life, things they couldn't possibly know–unless they actually are in her dreams? Luckily, Liv never could resist a good mystery, and all four of those boys are pretty cute….
Verdict: Kick. I dunno… the story doesn't seem interesting enough to keep.
Firefight by Brandon Sanderson
Blurb: (This is the second book in The Reckoners series so if you don't want to be spoiled I suggest you skip this blurb) Babylon Restored, formerly Manhattan, may give David answers. Ruled by the mysterious High Epic, Regalia, David is sure Babylon Restored will lead him to what he needs to find. And while entering another city oppressed by a High Epic despot is a gamble, David's willing to risk it. Because killing Steelheart left a hole in David's heart. A hole where his thirst for vengeance once lived. Somehow, he filled that hole with another Epic—Firefight. And he's willing to go on a quest darker, and more dangerous even, than the fight against Steelheart to find her, and to get his answers.
Verdict: Keep! I love this series and really need to read the next book. Plus, Brandon Sanderson never disappoints!
Vicious by V.E. Schwab
Blurb: Victor and Eli started out as college roommates—brilliant, arrogant, lonely boys who recognized the same sharpness and ambition in each other. In their senior year, a shared research interest in adrenaline, near-death experiences, and seemingly supernatural events reveals an intriguing possibility: that under the right conditions, someone could develop extraordinary abilities. But when their thesis moves from the academic to the experimental, things go horribly wrong.
Ten years later, Victor breaks out of prison, determined to catch up to his old friend (now foe), aided by a young girl whose reserved nature obscures a stunning ability. Meanwhile, Eli is on a mission to eradicate every other super-powered person that he can find—aside from his sidekick, an enigmatic woman with an unbreakable will. Armed with terrible power on both sides, driven by the memory of betrayal and loss, the archnemeses have set a course for revenge—but who will be left alive at the end?
Verdict: Keep. I've heard nothing but great things about this book and am super excited to read it.
Night of Cake & Puppets by Laini Taylor
Blurb: Petite though she may be, Zuzana is not known for timidity. Her best friend, Karou, calls her "rabid fairy," her "voodoo eyes" are said to freeze blood, and even her older brother fears her wrath. But when it comes to the simple matter of talking to Mik, or "Violin Boy," her courage deserts her. Now, enough is enough. Zuzana is determined to make the first move, and she has a fistful of magic and a plan. It's a wonderfully elaborate treasure hunt of a plan that will take Mik all over Prague on a cold winter's night before leading him to the treasure: herself! Violin Boy is not going to know what hit him.
Verdict: Keep. I loved the Daughter of Smoke and Bone series and Zuzana provided the much needed spunk and humor. She was one of my favorite characters (even more so than the main characters, to be honest), so I think I'll enjoy reading this.
Ready Player One by Ernest Cline
Blurb: In the year 2045, reality is an ugly place. The only time teenage Wade Watts really feels alive is when he's jacked into the virtual utopia known as the OASIS. Wade's devoted his life to studying the puzzles hidden within this world's digital confines, puzzles that are based on their creator's obsession with the pop culture of decades past and that promise massive power and fortune to whoever can unlock them. When Wade stumbles upon the first clue, he finds himself beset by players willing to kill to take this ultimate prize. The race is on, and if Wade's going to survive, he'll have to win—and confront the real world he's always been so desperate to escape.
Verdict: Kick. Man oh man I feel the heat from people who love this book. The reason I'm kicking this out of my TBR is because it sounds so much like Warcross by Marie Lu (which I've read) and I don't want to read the same story twice. I'm not saying they're have the same plot, but they seem very similar.
A Torch Against the Night by Sabaa Tahir
Blurb: (This is the second book in the An Ember in the Ashes series so if you don't want to be spoiled I suggest you skip this blurb) Elias and Laia are running for their lives. After the events of the Fourth Trial, Martial soldiers hunt the two fugitives as they flee the city of Serra and undertake a perilous journey through the heart of the Empire.
Laia is determined to break into Kauf—the Empire's most secure and dangerous prison—to save her brother, who is the key to the Scholars' survival. And Elias is determined to help Laia succeed, even if it means giving up his last chance at freedom.
But dark forces, human and otherworldly, work against Laia and Elias. The pair must fight every step of the way to outsmart their enemies: the bloodthirsty Emperor Marcus, the merciless Commandant, the sadistic Warden of Kauf, and, most heartbreaking of all, Helene—Elias's former friend and the Empire's newest Blood Shrike.
Bound to Marcus's will, Helene faces a torturous mission of her own—one that might destroy her: find the traitor Elias Veturius and the Scholar slave who helped him escape…and kill them both.
Verdict: Keep! I actually don't remember much from the first book but I do plan to reread it so I can get back into this series.
Glass Sword by Victoria Aveyard
Blurb: (This is the second book in the Red Queen series so if you don't want to be spoiled I suggest you skip this blurb)  If there's one thing Mare Barrow knows, it's that she's different.
Mare Barrow's blood is red—the color of common folk—but her Silver ability, the power to control lightning, has turned her into a weapon that the royal court tries to control.
The crown calls her an impossibility, a fake, but as she makes her escape from Maven, the prince—the friend—who betrayed her, Mare uncovers something startling: she is not the only one of her kind.
Pursued by Maven, now a vindictive king, Mare sets out to find and recruit other Red-and-Silver fighters to join in the struggle against her oppressors.
But Mare finds herself on a deadly path, at risk of becoming exactly the kind of monster she is trying to defeat.
Will she shatter under the weight of the lives that are the cost of rebellion? Or have treachery and betrayal hardened her forever?
The electrifying next installment in the Red Queen series escalates the struggle between the growing rebel army and the blood-segregated world they've always known—and pits Mare against the darkness that has grown in her soul.
Verdict: Keep. It's been a couple years since I've Red Queen but I'm still interested to see what happens next in the series….
What If?: Serious Scientific Answers to Absurd Hypothetical Questions by Randall Munroe
Blurb: Randall Munroe left NASA in 2005 to start up his hugely popular site XKCD 'a web comic of romance, sarcasm, math and language' which offers a witty take on the world of science and geeks. It now has 600,000 to a million page hits daily. Every now and then, Munroe would get emails asking him to arbitrate a science debate. 'My friend and I were arguing about what would happen if a bullet got struck by lightning, and we agreed that you should resolve it . . . ' He liked these questions so much that he started up What If.
In pursuit of answers, Munroe runs computer simulations, pores over stacks of declassified military research memos, solves differential equations, and consults with nuclear reactor operators. His responses are masterpieces of clarity and hilarity, studded with memorable cartoons and infographics. They often predict the complete annihilation of humankind, or at least a really big explosion. Far more than a book for geeks, WHAT IF: Serious Scientific Answers to Absurd Hypothetical Questions explains the laws of science in operation in a way that every intelligent reader will enjoy and feel much the smarter for having read.
Verdict: Keep. I know the little nerd in me will go gaga for this book.
Anna and the French Kiss by Stephanie Perkins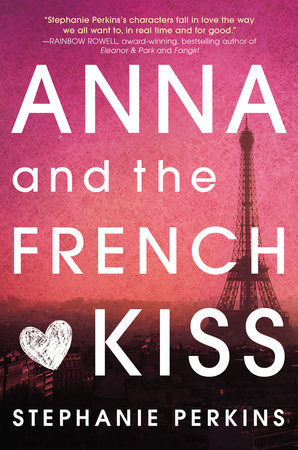 Blurb: Anna is looking forward to her senior year in Atlanta, where she has a great job, a loyal best friend, and a crush on the verge of becoming more. Which is why she is less than thrilled about being shipped off to boarding school in Paris–until she meets Étienne St. Clair. Smart, charming, beautiful, Étienne has it all…including a serious girlfriend.
But in the City of Light, wishes have a way of coming true. Will a year of romantic near-misses end with their long-awaited French kiss?
Verdict: Kick. I've actually tried to read this a couple months ago and couldn't seem to get into it, so I'm taking it out of my TBR.
Stolen Songbird by Danielle L. Jensen
Blurb: For five centuries, a witch's curse has bound the trolls to their city beneath the mountain. When Cécile de Troyes is kidnapped and taken beneath the mountain, she realizes that the trolls are relying on her to break the curse.
Cécile has only one thing on her mind: escape. But the trolls are clever, fast, and inhumanly strong. She will have to bide her time…
But the more time she spends with the trolls, the more she understands their plight. There is a rebellion brewing. And she just might be the one the trolls were looking for…
Verdict: Keep. I've never read a YA book where trolls play a big role in the plot, so I think I'll keep this one just to see how it goes. 
Until next time….