Sooooooo recently I finally got around to watching Spider-Man: Into the Spider-Verse in theaters, and it was fan-fricking-tastic! The artistry, the animation, the subtle themes, and the SOUNDTRACK. Oh my goodness, it was a medley of awesomeness and hype all wrapped up in a nice package in the form of a two hour movie masterpiece.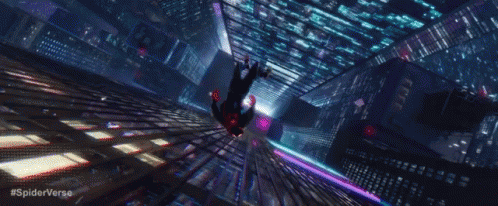 I mean, LOOK AT THIS AMAZINGNESS!
Ahem….
If you can't tell, I loved the movie.
Every since I watched it a couple days ago, I can't seem to get it out of my head. I was having a hard time brainstorming some ideas of what to post on this blog, when I realized that I could just take what was occupying my mind and turn in into a post. There's this whole thing that was going around the internet where artists would create their own Spider-sona (like persona, but as a spider-hero), and that inspired me to think of which book character each spider-hero reminded me of the most. I going to limit this list to just the spider-heroes because they were my favorite. 

Peter Parker – Adrian Everhart from Renegades
I guess this is kind of cheating, because Renegades is all about superheroes, but I thought the picture perfect Peter Parker would pair nicely with Adrian from Renegades because he would be the textbook definition of a superhero. Good looks, fits, heart of gold, loved by the people and tries to save everyone.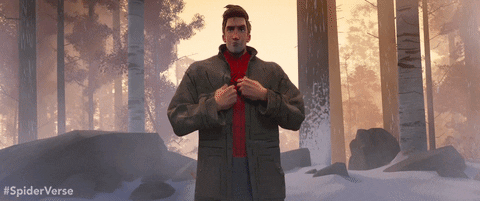 Peter B. Parker – Dee Black from the Lux series
I think everyone who has watched Spider-Verse can agree that Peter B. Parker is one of the most relatable characters in the movie. He likes to eat, went through a pretty bad breakup, but is still (somewhat) willing to put himself out there if it means saving the universe. Several universes. With Dee, she also basically has superpowers, likes to eat, likes pizza, came from a different planet (yes, I know Peter came from a different universe put a planet is close enough), had some relationship issues, and still found space in her heart to help others out. Basically, Dee is the younger, female version of Peter B. Parker minus the spider abilities.

Miles Morales – Feyre Archeron from A Court of Thorns and Roses
This one is a weird match, but I think it works. Miles got his powers from a radioactive spider, meaning that he wasn't born with his abilities. Feyre also wasn't born into her powers either (not going to go into it because of spoilers). They both have mentors to help them with their newfound powers. They both have to navigate this new world that was opened to them. Additionally, they both like art. Miles likes to do graffiti with spray-paint and Feyre likes to paint with what I assume to be oil paints. Both of them struggled to learn for a bit but got a hang of it. For Miles, the change of schools caught him off guard, and for Feyre, it was how to read.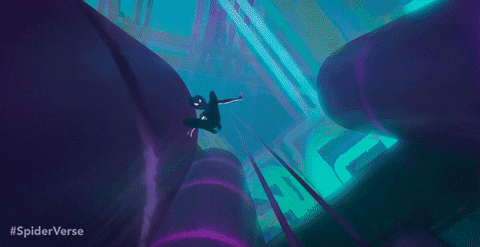 Gwen Stacy (Spider Gwen) – Kady Grant from The Illuminae Files
If you've read The Illuminae Files series (and if you haven't, you definitely should), you know that Kady is reliable, smart, quick on her feet, and overall amazing. She's sarcastic and should could get you out of any sticky situation. Just like Gwen. Although a bit awkward at times, Gwen saves Miles and Peter from a lot of bad situations.

Spider-Ham – Iko from The Lunar Chronicles
Iko is like Spider-Ham in the sense that you wouldn't really expect either of them to act human at first glance but they do. They're both the comedic relief in their respective stories, and don't quite know the ways of humans but the idea they have in their minds is pretty darn close. They make friends with everyone they meet (unless they're fighting the enemy), and you can't help but love them the first time you meet them.

Spider-Man Nior – Kaz Brekker from Six of Crows
Spider-Man Nior has this sort of mysterious aura about him. He wears this trench coat and a hat, kind of like how I imagine Kaz Brekker to look (maybe minus the hat because that would ruin his prefect hair). They're both not that talkative, and puzzle over the mundane. Spider-Man Nior knows how to fight, and seems badass in the quiet sort of way, which is exactly how I would describe Kaz.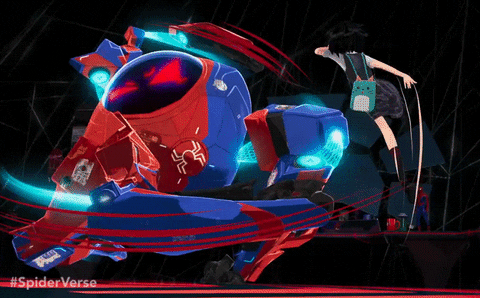 Peni Parker and SP//DR – Ella Malikova from The Illuminae Files
This struck me in the middle of the night right before I was going to bed. Ella Malikova was the perfect fit for Peni because they're both really good at technology and use some form of machinery to get around. What makes the match even more perfect is that in The Illuminae Files, Ella's nickname is "the spider". If that isn't a match made in heaven I don't know what is.
What do you think of the matches?
Who would you match with each Spider-hero?
Have you watched Spider-Verse? What were your thoughts?
Until next time….