I'll admit it. I definitely dropped the ball on this one. It was my own little personal project to make sure that my TBR was especially tailored to me, meaning that I had to get rid of the books that I no longer had interest in that has been sitting in my TBR for months or maybe even years.
That being said, I'm ready to get back on track. I'm just going to start where I left off.
Here are the rules to the "cleanse":
Choose the first 10 books in your TBR list.
Read the blurb.
Decide whether to keep it or "kick" it out of the list.
Repeat with the next 10 books every week until you go through the whole list.
(All the blurbs were taken from Goodreads.)
Maximum Ride, Vol. 8 by James Patterson, illustrated by NaRae Lee
Blurb: Joining a scientific expedition gives Max and the flock a perfect opportunity to distance themselves from the heated debate over their future, but frostbite isn't the only danger in the Antarctic! A powerful figure in the underworld has promised the super-human kids to the highest bidder-and he has the robotic army to ensure the goods are delivered!
Verdict: Keep. I plan to read the rest of the manga, whenever I can get my hands on them. I used to love the Maximum Ride series as a tween, and it's fun to revisit the story every once in a while in a shorter format.
Kindred Spirit by Rainbow Rowell
Blurb: 'Everybody likes everything these days. The whole world is a nerd.'
'Are you mad because other people like Star Wars? Are you mad because people like me like Star Wars?'
'Maybe.'
If you broke Elena's heart, Star Wars would spill out. So when she decides to queue outside her local cinema to see the new movie, she's expecting a celebration with crowds of people who love Han, Luke and Leia just as much as she does. What she's not expecting is to be last in a line of only three people; to have to pee into a collectible Star Wars soda cup behind a dumpster or to meet that unlikely someone who just might truly understand the way she feels.
Verdict: Keep. I will read anything Rainbow Rowell, including this novella.
The Siren by Kiera Cass
Blurb: Love is a risk worth taking.
Years ago, Kahlen was rescued from drowning by the Ocean. To repay her debt, she has served as a Siren ever since, using her voice to lure countless strangers to their deaths. Though a single word from Kahlen can kill, she can't resist spending her days on land, watching ordinary people and longing for the day when she will be able to speak and laugh and live freely among them again.
Kahlen is resigned to finishing her sentence in solitude…until she meets Akinli. Handsome, caring, and kind, Akinli is everything Kahlen ever dreamed of. And though she can't talk to him, they soon forge a connection neither of them can deny…and Kahlen doesn't want to.
Falling in love with a human breaks all the Ocean's rules, and if the Ocean discovers Kahlen's feelings, she'll be forced to leave Akinli for good. But for the first time in a lifetime of following the rules, Kahlen is determined to follow her heart.
Verdict: Keep! I dunno, serving for life for saving a life seems kind of a steep price. It makes it seem like they only saved your life so that you could serve them. Regardless, I think I'll keep this on my TBR because I could see myself reading it when I'm in a particular mood.
The Beauty of Darkness (The Remnant Chronicles, #3) by Mary E. Pearson
Blurb: (This blurb has spoilers. Read at your own risk.) Lia has survived Venda—but so has a great evil bent on the destruction of Morrighan. And only Lia can stop it.
With war on the horizon, Lia has no choice but to assume her role as First Daughter, as soldier—as leader. While she struggles to reach Morrighan and warn them, she finds herself at cross-purposes with Rafe and suspicious of Kaden, who has hunted her down.
In this conclusion to the Remnant Chronicles trilogy, traitors must be rooted out, sacrifices must be made, and impossible odds must be overcome as the future of every kingdom hangs in the balance.
Verdict: Keep! I need to finish this series!
A Thousand Nights (A Thousand Nights, #1) by E.K. Johnston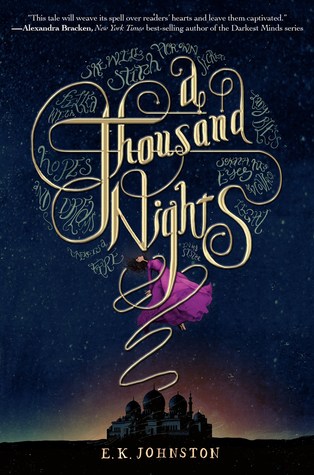 Blurb: Lo-Melkhiin killed three hundred girls before he came to her village, looking for a wife. When she sees the dust cloud on the horizon, she knows he has arrived. She knows he will want the loveliest girl: her sister. She vows she will not let her be next.
And so she is taken in her sister's place, and she believes death will soon follow. Lo-Melkhiin's court is a dangerous palace filled with pretty things: intricate statues with wretched eyes, exquisite threads to weave the most beautiful garments. She sees everything as if for the last time. But the first sun rises and sets, and she is not dead. Night after night, Lo-Melkhiin comes to her and listens to the stories she tells, and day after day she is awoken by the sunrise. Exploring the palace, she begins to unlock years of fear that have tormented and silenced a kingdom. Lo-Melkhiin was not always a cruel ruler. Something went wrong.
Far away, in their village, her sister is mourning. Through her pain, she calls upon the desert winds, conjuring a subtle unseen magic, and something besides death stirs the air.
Back at the palace, the words she speaks to Lo-Melkhiin every night are given a strange life of their own. Little things, at first: a dress from home, a vision of her sister. With each tale she spins, her power grows. Soon she dreams of bigger, more terrible magic: power enough to save a king, if she can put an end to the rule of a monster.
Verdict: Keep. This sort of is giving me the vibes of of The Wrath and the Dawn by Renee Ahdieh, which I'm totally down for. I've wanted to read another story like that one, and it seems like this would be the perfect option.
The Name of the Wind (The Kingkiller Chronicle, #1) by Patrick Rothfuss
Blurb: Told in Kvothe's own voice, this is the tale of the magically gifted young man who grows to be the most notorious wizard his world has ever seen.
The intimate narrative of his childhood in a troupe of traveling players, his years spent as a near-feral orphan in a crime-ridden city, his daringly brazen yet successful bid to enter a legendary school of magic, and his life as a fugitive after the murder of a king form a gripping coming-of-age story unrivaled in recent literature.
A high-action story written with a poet's hand, The Name of the Wind is a masterpiece that will transport readers into the body and mind of a wizard.
Verdict: Keep. I heard nothing but good things about this series, and I just need to start it.
Something Strange and Deadly (Something Strange and Deadly, #1) by Susan Dennard
Blurb: There's something strange and deadly loose in Philadelphia. . . .
Eleanor Fitt has a lot to worry about.
Her brother has gone missing, her family has fallen on hard times, and her mother is determined to marry her off to any rich young man who walks by. But this is nothing compared to what she's just read in the newspaper:
The Dead are rising in Philadelphia.
And then, in a frightening attack, a zombie delivers a letter to Eleanor . . . from her brother.
Whoever is controlling the Dead army has taken her brother as well. If Eleanor is going to find him, she'll have to venture into the lab of the notorious Spirit-Hunters, who protect the city from supernatural forces. But as Eleanor spends more time with the Spirit-Hunters, including the maddeningly stubborn yet handsome Daniel, the situation becomes dire. And now, not only is her reputation on the line, but her very life may hang in the balance.
Verdict: Kick. I don't know… I've just lost interest in this one. Sorry to anyone who liked this series.
Pumpkinheads by Rainbow Rowell
Blurb: Deja and Josiah are seasonal best friends.
Every autumn, all through high school, they've worked together at the best pumpkin patch in the whole wide world. (Not many people know that the best pumpkin patch in the whole wide world is in Omaha, Nebraska, but it definitely is.) They say good-bye every Halloween, and they're reunited every September 1.
But this Halloween is different—Josiah and Deja are finally seniors, and this is their last season at the pumpkin patch. Their last shift together. Their last good-bye.
Josiah's ready to spend the whole night feeling melancholy about it. Deja isn't ready to let him. She's got a plan: What if—instead of moping and the usual slinging lima beans down at the Succotash Hut—they went out with a bang? They could see all the sights! Taste all the snacks! And Josiah could finally talk to that cute girl he's been mooning over for three years . . .
What if their last shift was an adventure?
Verdict: Keep. Once again, I will read anything by Rainbow Rowell.
Passenger (Passenger, #1) by Alexandra Bracken
Blurb: Passage, n.
i. A brief section of music composed of a series of notes and flourishes.
ii. A journey by water; a voyage.
iii. The transition from one place to another, across space and time.
In one devastating night, violin prodigy Etta Spencer loses everything she knows and loves. Thrust into an unfamiliar world by a stranger with a dangerous agenda, Etta is certain of only one thing: she has traveled not just miles but years from home. And she's inherited a legacy she knows nothing about from a family whose existence she's never heard of. Until now.
Nicholas Carter is content with his life at sea, free from the Ironwoods—a powerful family in the colonies—and the servitude he's known at their hands. But with the arrival of an unusual passenger on his ship comes the insistent pull of the past that he can't escape and the family that won't let him go so easily. Now the Ironwoods are searching for a stolen object of untold value, one they believe only Etta, Nicholas' passenger, can find. In order to protect her, he must ensure she brings it back to them—whether she wants to or not.
Together, Etta and Nicholas embark on a perilous journey across centuries and continents, piecing together clues left behind by the traveler who will do anything to keep the object out of the Ironwoods' grasp. But as they get closer to the truth of their search, and the deadly game the Ironwoods are playing, treacherous forces threaten to separate Etta not only from Nicholas but from her path home… forever.
Verdict: Kick. This book has lost its appeal to me. I have so many books that I want to read, so it feels weird to keep a book that I feel indifferent about on my TBR.
The Rose & the Dagger (The Wrath and the Dawn, #2) by Renee Ahdieh
Blurb: I am surrounded on all sides by a desert. A guest, in a prison of sand and sun. My family is here. And I do not know whom I can trust.

In a land on the brink of war, Shahrzad has been torn from the love of her husband Khalid, the Caliph of Khorasan. She once believed him a monster, but his secrets revealed a man tormented by guilt and a powerful curse—one that might keep them apart forever. Reunited with her family, who have taken refuge with enemies of Khalid, and Tariq, her childhood sweetheart, she should be happy. But Tariq now commands forces set on destroying Khalid's empire. Shahrzad is almost a prisoner caught between loyalties to people she loves. But she refuses to be a pawn and devises a plan.
While her father, Jahandar, continues to play with magical forces he doesn't yet understand, Shahrzad tries to uncover powers that may lie dormant within her. With the help of a tattered old carpet and a tempestuous but sage young man, Shahrzad will attempt to break the curse and reunite with her one true love.
Verdict: Keep. I need to finish this series! I really liked the first book, but have never gotten around to reading the second one.
Until next time….