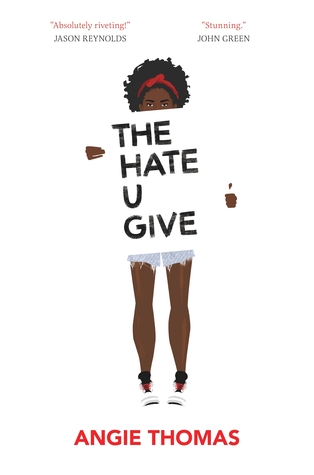 Title: The Hate U Give
Series: N/A
Author: Angie Thomas
Published: February 28, 2017
Genre: YA, contemporary, fiction
Pages: 444
My Rating: ★★★★★
Goodreads page
This is review is super short and spoiler-free.
Synopsis
Sixteen-year-old Starr Carter moves between two worlds: the poor neighborhood where she lives and the fancy suburban prep school she attends. The uneasy balance between these worlds is shattered when Starr witnesses the fatal shooting of her childhood best friend Khalil at the hands of a police officer. Khalil was unarmed.
Soon afterward, his death is a national headline. Some are calling him a thug, maybe even a drug dealer and a gangbanger. Protesters are taking to the streets in Khalil's name. Some cops and the local drug lord try to intimidate Starr and her family. What everyone wants to know is: what really went down that night? And the only person alive who can answer that is Starr.
But what Starr does—or does not—say could upend her community. It could also endanger her life.
(This synopsis is from Goodreads.)
Thoughts
Ok, before you yell at me: yes, I'm aware that I super late in reading this book. I just wasn't in the headspace for any serious stories, but the other day I decided I was ready. I had some free time on my hands and listened to the audiobook while I was sewing a book sleeve for myself because the one I made last summer was too small to carry my Sarah J. Maas books.
You probably already know this, but this book is powerful. It was so moving that I was close to tears at times. I could feel Starr's pain and frustrations through the page. Heck, I've had some of those same frustrations. Her pain was my pain. I might not have gone through the same things that she has, but some of the ideas and issues that the author highlights in this book is universal and could apply to anyone.
It speaks from the heart. You could feel Thomas' pain of the injustice that's been served for too long.
And to be honest, I kind of got how Starr felt whenever she's at her school versus when she's in Garden Heights. I feel the same way whenever I'm home or visiting my extended family. It's like living a double life, because one world expects one version of me and the other expects another.
This book is just… so good.
The hype wasn't overdone.
Trust me.
Who am I kidding? I'm probably the only one who hasn't read the book until now.
Characters
Starr
The whole time I was rooting for her. Her bravery brought tears in my eyes.
Seven
I just want to give him a hug.
Sekani
He's what I picture any younger brother would be like. He's cute, and I can't help but think he represents innocence and hope for the future.
Mommy and Daddy Carter
Love them. They're your typical bickering couple that, at the end of the day, love each other very much.
Uncle Carlos
Love him. He's cool.
Hailey
I wanted to slap her, but then again, people won't learn unless they want to.
Maya
Love her. She's cool.
Chris
Ok, so at the beginning, I totally thought Chris was your average dude, but when Kenya said that Chris looked fine as heck, I had to look up who they casted for him in the movies. Let me tell you, KJ Apa is a good looking dude. I don't watch Riverdale, but its whole cast basically consists of actors who could definitely model if acting doesn't work out for them.
DeVante
I kind of want to be friends with DeVante. He seems super fun to hang around. There definitely would never be a dull moment.
Conclusion
I give this book 5 / 5 unicorn horns. Do yourself a favor and read this book. It won't disappoint you.
Until next time….