I can't wait to be done cleaning out my TBR… It's so long that this series will take a while. I might start doing 20 books at a time instead of ten. Or maybe I'll comprise a post about all the books I kick out of my TBR. I dunno. I'll think about it later.
Regardless of what I'm going to do in the future, I'm excited to revisit these next 10 books in the list to see if they'll make the cut.
Here are the rules to the "cleanse":
Choose the first 10 books in your TBR list.
Read the blurb.
Decide whether to keep it or "kick" it out of the list.
Repeat with the next 10 books every week until you go through the whole list.
(All the blurbs were taken from Goodreads.)
Hollow City (Miss Peregrine's Peculiar Children Graphic Novels, #2) by Ransom Riggs, illustrated by Cassandra Jean
Blurb: (This blurb has spoilers from the Miss Peregrine's series!) After fleeing an army of terrible monsters, Jacob Portman and his peculiar friends find themselves lost at sea, but the only person who might be able to get them ashore safely, their illustrious headmistress Miss Peregrine, is stuck in the form of a bird! Hoping to find a way to get Miss Peregrine back to normal–or as normal as a peculiar can get–the children journey to London. But no matter where they go, trouble lurks after them… Cassandra Jean's evocative visuals once again work seamlessly with Hollow City's vintage photographs and Ransom Rigg's twisting fantasy narrative to make for a wholly immersive reading experience for fans of the original novels, fans graphic novels, and fans of reading great stories alike!
Verdict: Keep. I read the series, and I like to read the graphic novel adaptations for them.
The Nightingale by Kristin Hannah
Blurb: In love we find out who we want to be. In war we find out who we are.
France, 1939
In the quiet village of Carriveau, Vianne Mauriac says goodbye to her husband, Antoine, as he heads for the Front. She doesn't believe that the Nazis will invade France…but invade they do, in droves of marching soldiers, in caravans of trucks and tanks, in planes that fill the skies and drop bombs upon the innocent. When France is overrun, Vianne is forced to take an enemy into her house, and suddenly her every move is watched; her life and her child's life is at constant risk. Without food or money or hope, as danger escalates around her, she must make one terrible choice after another.
Vianne's sister, Isabelle, is a rebellious eighteen-year-old girl, searching for purpose with all the reckless passion of youth. While thousands of Parisians march into the unknown terrors of war, she meets the compelling and mysterious Gäetan, a partisan who believes the French can fight the Nazis from within France, and she falls in love as only the young can…completely. When he betrays her, Isabelle races headlong into danger and joins the Resistance, never looking back or giving a thought to the real–and deadly–consequences.
Verdict: Keep. I know this is one of those books that I'll eventually get to and love. I don't see myself reading it any time soon, but I'm keeping that option open for the future.
George by Alex Gino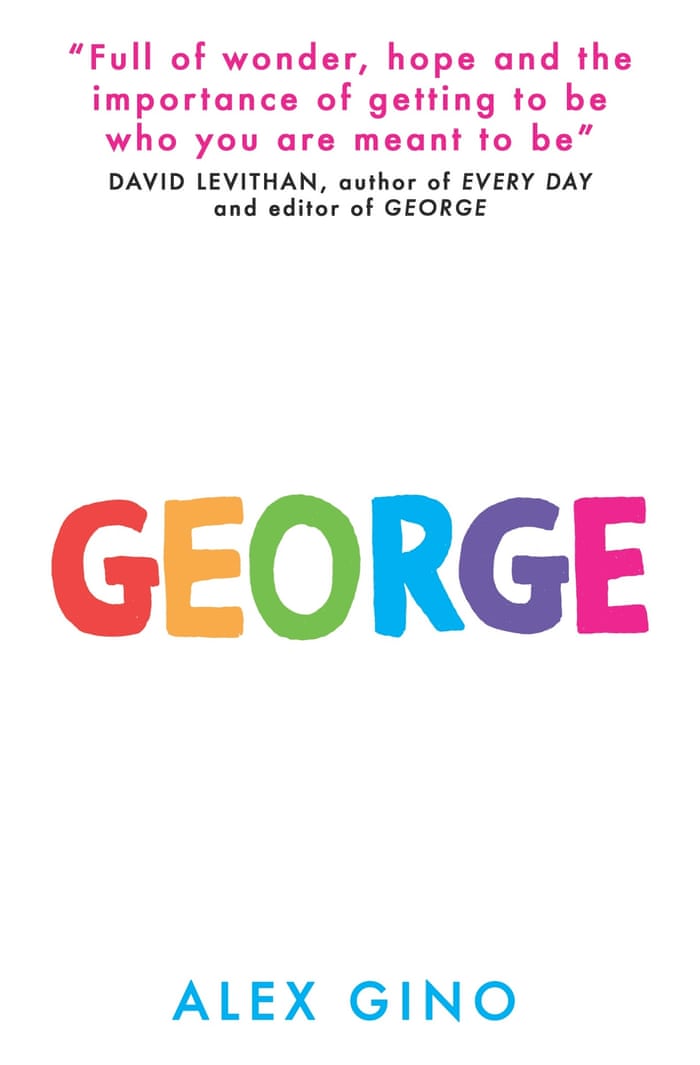 Blurb: BE WHO YOU ARE. When people look at George, they think they see a boy. But she knows she's not a boy. She knows she's a girl.
George thinks she'll have to keep this a secret forever. Then her teacher announces that their class play is going to be Charlotte's Web. George really, really, REALLY wants to play Charlotte. But the teacher says she can't even try out for the part… because she's a boy.
With the help of her best friend, Kelly, George comes up with a plan. Not just so she can be Charlotte – but so everyone can know who she is, once and for all.
Verdict: Keep. Seems like a cute yet powerful story. Once in a blue moon when I want to read a contemporary I might pick this one up.
Ghostly Echoes (Jackaby, #3) by William Ritter
Blurb: (This blurb has spoilers from the Jackaby series!) Jenny Cavanaugh, the ghostly lady of 926 Augur Lane, has enlisted the investigative services of her fellow residents to solve a decade-old murder—her own. Abigail Rook and her eccentric employer, Detective R. F. Jackaby, dive into the cold case, starting with a search for Jenny's fiancé, who went missing the night she died. But when a new, gruesome murder closely mirrors the events of ten years prior, Abigail and Jackaby realize that Jenny's case isn't so cold after all, and her killer may be far more dangerous than they suspected.
Fantasy and folklore mix with mad science as Abigail's race to unravel the mystery leads her across the cold cobblestones of nineteenth-century New England, down to the mythical underworld, and deep into her colleagues' grim histories to battle the most deadly foe she has ever faced.
Verdict: Keep! I really need to finish this series, because it's so good! Each book has it's own mystery, but throughout the whole entire series there's one big mystery Jackaby and Abigail are trying to solve.
Furthermore (Furthermore, #1) by Tahereh Mafi
Blurb: Alice Alexis Queensmeadow 12 rates three things most important: Mother, who wouldn't miss her; magic and color, which seem to elude her; and Father, who always loved her. Father disappeared from Ferenwood with only a ruler, almost three years ago. But she will have to travel through the mythical, dangerous land of Furthermore, where down can be up, paper is alive, and left can be both right and very, very wrong. Her only companion is Oliver whose own magic is based in lies and deceit. Alice must first find herself—and hold fast to the magic of love in the face of loss.
Verdict: Kick. I'm not into middle grade books as much as I used to be, and I know I'll probably never get to this story.
Tales from the Shadowhunter Academy by Cassandra Clare, Sarah Rees Brennan, Maureen Johnson, Robin Wasserman
Blurb: Simon Lewis has been a human and a vampire, and now he is becoming a Shadowhunter. But the events of City of Heavenly Fire left him stripped of his memories, and Simon isn't sure who he is anymore. He knows he was friends with Clary, and that he convinced the total goddess Isabelle Lightwood to go out with him…but he doesn't know how. And when Clary and Isabelle look at him, expecting him to be a man he doesn't remember…Simon can't take it.
So when the Shadowhunter Academy reopens, Simon throws himself into this new world of demon-hunting, determined to find himself again. His new self. Whomever this new Simon might be.
But the Academy is a Shadowhunter institution, which means it has some problems. Like the fact that non-Shadowhunter students have to live in the basement. And that differences—like being a former vampire—are greatly looked down upon. At least Simon is trained in weaponry—even if it's only from hours of playing D&D.
Join Simon on his journey to become a Shadowhunter, and learn about the Academy's illustrious history along the way, through guest lecturers such as Jace Herondale, Tessa Gray, and Magnus Bane. These ten short stories give an epilogue to the Mortal Instruments series and provide glimpses of what's in store in the Dark Artifices.
Verdict: Keep. I'm hesitant to keep this one because I read the collection of short stories about Magnus Bane and was slightly disappointed. However, I really like Simon and want to give the Shadowhunter short story collections another chance.
Strange the Dreamer (Strange the Dreamer, #1) by Laini Taylor
Blurb: The dream chooses the dreamer, not the other way around—and Lazlo Strange, war orphan and junior librarian, has always feared that his dream chose poorly. Since he was five years old he's been obsessed with the mythic lost city of Weep, but it would take someone bolder than he to cross half the world in search of it. Then a stunning opportunity presents itself, in the person of a hero called the Godslayer and a band of legendary warriors, and he has to seize his chance or lose his dream forever.
What happened in Weep two hundred years ago to cut it off from the rest of the world? What exactly did the Godslayer slay that went by the name of god? And what is the mysterious problem he now seeks help in solving?
The answers await in Weep, but so do more mysteries—including the blue-skinned goddess who appears in Lazlo's dreams. How did he dream her before he knew she existed? And if all the gods are dead, why does she seem so real?
Welcome to Weep.
Verdict: Keep. I'm hesitant to keep this one because the premise is not capturing my attention, but I've heard nothing but good things about this book so I might as well give it a try. Maybe I'll be surprised.
Bridge of Snow (The Winner's Trilogy, #0.5) by Marie Rutkoski
Blurb: Ignore the stirrings of war. Let the carriage to a royal ball wait. There is a story to be told: of a starless night, a mother and her sick son, and a mortal who falls in love with the snow god, and will do anything to have her…
Verdict: Keep. I really liked this series and I still need to read this someday.
Windwitch (The Witchlands, #2) by Susan Dennard
Blurb: (This blurb contains spoilers of The Witchlands series!) Sometimes our enemies are also our only allies…
After an explosion destroys his ship, the world believes Prince Merik, Windwitch, is dead. Scarred yet alive, Merik is determined to prove his sister's treachery. Upon reaching the royal capital, crowded with refugees, he haunts the streets, fighting for the weak—which leads to whispers of a disfigured demigod, the Fury, who brings justice to the oppressed.
When the Bloodwitch Aeduan discovers a bounty on Iseult, he makes sure to be the first to find her—yet in a surprise twist, Iseult offers him a deal. She will return money stolen from him, if he locates Safi. Now they must work together to cross the Witchlands, while constantly wondering, who will betray whom first?
After a surprise attack and shipwreck, Safi and the Empress of Marstok barely escape with their lives. Alone in a land of pirates, every moment balances on a knife's edge—especially when the pirates' next move could unleash war upon the Witchlands.
Verdict: Keep. I kept the first book in my TBR, so it makes sense to keep this one too.
Blue Lily, Lily Blue (The Raven Cycle, #3) by Maggie Stiefvater
Blurb: (Spoilers!) Blue Sargent has found things. For the first time in her life, she has friends she can trust, a group to which she can belong. The Raven Boys have taken her in as one of their own. Their problems have become hers, and her problems have become theirs.
The trick with found things, though, is how easily they can be lost.
Friends can betray.
Mothers can disappear.
Visions can mislead.
Certainties can unravel.
Verdict: Keep. I don't remember what happened in the first book, but I want to read this book. I really want to like this series like everyone else does. I'm probably going to have to start from the beginning, though.
Until next time….