Happy New Year's Eve! I can't believe the decade is almost over! It's insane to think that 2019 is coming to an end. To me, it felt like time flew by so quickly.
I was able to reach my reading goal, which was to read more than I did the year before. I read 31 books in 2018, so my goal was to read at least 32 books. According to Goodreads, I passed that goal. I read a little under 60 books this year. I guess for 2020 my goal is going to stay the same. I just want to read more than I read in 2019. We'll see how that goes.
It was hard to pick just 10 books as my top books for 2019 because this year was a good reading year. There were so many great stories that came out and so many great stories I couldn't get to read in the years before but was able to this year.
These books are in no particular order.
The Queen of Nothing (The Folk of the Air, #3) by Holly Black
I don't want to say too much about this book because it is the finale of this series. If you want my full, spoiler thoughts about this book, here's the review I've written.
All you need to know is that it's a great book. I thoroughly enjoyed it. I noticed that some people were discontent with the ending and how certain relationships developed in this book since it was so out of character, but I thought the opposite. I didn't think the change of attitude was out of character at all. Honestly, I think it's worth a shot to read this book because it is seriously one of the best YA books I've read in a really long time.
Tell Me How It Ends: An Essay in Forty Questions by Valeria Luiselli
I never thought I'd be putting in an essay in my top 10 for this year, but here we are. I read this for one of my classes this year, and I thoroughly enjoyed it. For once, this assigned reading didn't feel like a chore.
The author talks about her time as she worked to help undocumented immigrants with their legal cases before and after the current American administration. I found her stories and those of the immigrants she worked with to be quite interesting. The essay is on the shorter side, so she gets straight to the point. Highly recommend to anyone who is interested in that kind of stuff.
The Hate U Give by Angie Thomas
I know what you're thinking. How in the everlasting HECK did I last this long without reading THUG? I purchased a copy the first week it came out but did not touch it since. I met Angie Thomas (who is an absolute sweet and humble human being), but still I didn't feel compelled to pick up the story. Part of the reason was that I felt like I wasn't in the right mindset for the story. For some reason, this year I felt ready to read it. And I'm really glad I did. The story is relevant and moving. Honestly, I'm sure I don't have to say much about it since it's been talked about on the internet for several years now. If you're having hesitations about this book, don't. It's a fantastic read, and I recommend it to everyone. You can read my full review here.
The Things They Carried by Tim O'Brien
This is another book I didn't think would end up on my top 10 list. I reread The Things They Carried this year. The first time I read it in (I think) 2017, the book didn't feel like much. After rereading it, however, I noticed just how much meaning I missed the first time reading O'Brien's stories and anecdotes. Granted, I was reading it for an English class, so I didn't find the hidden messages and meanings on my own. Regardless, this is a surprise inclusion to this list, but one that definitely earned it's spot on the top. If you like stories about the Vietnam War, this book is for you. If you want a book that will make you think and move you, Tim O'Brien is your guy.
Aurora Rising (The Aurora Cycle, #1) by Jay Kristoff & Amie Kaufman
I was a little afraid after finishing The Illuminae Files series by the duo that nothing would compare. Fortunately, I had nothing to worry about because their new series is just as banging as their first one. They remained in the realm of science fiction, but they took a completely different route than they did with The Illuminae Files. Kristoff and Kaufman described this new series as a sci-fi soap opera, and I couldn't agree more. There's drama, action, and a whole bunch of confusing feelings. You come to love all the characters in their individual, unique way (Fin is still my fav), and I can't wait for the second book to be released in 2020 (full review here).
An Ember in the Ashes (An Ember in the Ashes, #1) by Sabaa Tahir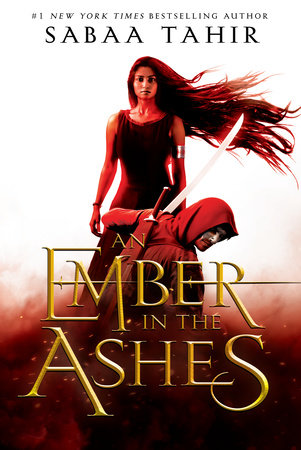 This book was a reread. I was looking at my bookshelf to see which books I still need to read and I realized that it's been high time that I read A Torch Against the Night, the second book in the series. I had read the first book years before, but I couldn't remember a single thing that happened. Because of that, I decided I needed to reread the first book just to make sure that I remembered all the important details before going into the second book.
I've forgotten how intense Sabaa Tahir's books are. This series will have you at the edge of your seat, mentally biting your nails, and stressed yet intrigued all at the same time. It was refreshing to read something so unpredictable. You can read my full review here.
The Hero of Ages (Mistborn, #3) by Brandon Sanderson
I just recently finished this book two days ago and I'm still speechless. The sheer amount of planning and detail that has gone into this book blows my mind. All the little details from the previous books have been coming together to an epic finale. I'm sad to see this trilogy come to an end, but I'm so happy that I sat down and read the book in its entirety without too many breaks.
I haven't written my review yet, but expect it soon. I still need to gather my thoughts, but just know it was refreshing to read a series that was obviously carefully crafted and written beautifully. I honestly can't express how great the writing is. The plot is amazing, but the writing itself is something special. Sanderson, you son of a gun, you did it again. You created a masterpiece and now my life will never be the same.
Children of Blood and Bone (Legacy of Orisha, #1) by Tomi Adeyemi
I mainly listened to the audio-book for this one. There were a lot of non-English words that I did not know how to pronounce, but the audio-book helped a lot with that.
There was a lot of hype around this story after it was released, and I wanted to read it to see for myself whether or not it was worth the hype. Turns out, it is. Plus, it's right up my alley. It has magic, fantastical animals, and a girl who is just trying to save her world. It's rich in imagery and action, and it was hard to put down. You can read more about my thoughts here in this review.
Storm and Fury (The Harbinger, #1) by Jennifer L. Armentrout
I realized that this year I've read the great first books of series. Storm and Fury is one of them. I don't know about you, but I freaking love Jennifer L. Armentrout's works. I think I say that once every couple blog posts I write nowadays. Part of the reason I love Armentrout so much is that she writes about the stuff I love to read: fantasy, paranormal, badassery (is that even a word?), and romance. This story is no exception. It has demons, gargoyles (a paranormal creature that I don't see too often in YA), and one badass protagonist who doesn't let anything stop her from being the amazing hero that she is (full review here).
Kingdom of Ash (Throne of Glass, #7) by Sarah J. Maas
This was a bittersweet pick. KoA was the last book in my favorite YA series of all time, Throne of Glass. It was an epic finale to an epic series. I don't want to say much more since it is a huge series and I don't want to spoil anything. I'm honestly so happy with the series but sad to see it go (full review here). Thankfully, Sarah J. Maas is working on another series that is projected to come out on March 2020. You can bet your bottom dollar that I will have that book in my hands when it comes out. I'm sad to see Throne of Glass come to an end, but its end marks the beginning of a new series which I'm excited to start.
That is a wrap on 2019!
Wow what a year it's been! I was able to finish some amazing books. What about you? How did your 2019 go? What are your goals (reading or non-reading) for 2020? Here's to another great year!
Until next time….