"Your heart, Poppy? It is a gift I do not deserve." He placed his hands on his knees as he lifted his gaze to mine. "But it is one I will protect until my dying breath."

Jennifer L. Armentrout, A Kingdom of Flesh and Fire
Title: A Kingdom of Flesh and Fire
Series: Blood and Ash, #2
Author: Jennifer L. Armentrout
Published: September 1, 2020
Publisher: Blue Box Press
Genre: new adult, fantasy, romance, supernatural
Pages: 697
My Rating: ★★★★☆ (4.5)
Goodreads page
This review is spoiler-free!
Synopsis
A Betrayal

Everything Poppy has ever believed in is a lie, including the man she was falling in love with. Thrust among those who see her as a symbol of a monstrous kingdom, she barely knows who she is without the veil of the Maiden. But what she does know is that nothing is as dangerous to her as him. The Dark One. The Prince of Atlantia. He wants her to fight him, and that's one order she's more than happy to obey. He may have taken her, but he will never have her.

A Choice

Casteel Da'Neer is known by many names and many faces. His lies are as seductive as his touch. His truths as sensual as his bite. Poppy knows better than to trust him. He needs her alive, healthy, and whole to achieve his goals. But he's the only way for her to get what she wants—to find her brother Ian and see for herself if he has become a soulless Ascended. Working with Casteel instead of against him presents its own risks. He still tempts her with every breath, offering up all she's ever wanted. Casteel has plans for her. Ones that could expose her to unimaginable pleasure and unfathomable pain. Plans that will force her to look beyond everything she thought she knew about herself—about him. Plans that could bind their lives together in unexpected ways that neither kingdom is prepared for. And she's far too reckless, too hungry, to resist the temptation.

A Secret

But unrest has grown in Atlantia as they await the return of their Prince. Whispers of war have become stronger, and Poppy is at the very heart of it all. The King wants to use her to send a message. The Descenters want her dead. The wolven are growing more unpredictable. And as her abilities to feel pain and emotion begin to grow and strengthen, the Atlantians start to fear her. Dark secrets are at play, ones steeped in the blood-drenched sins of two kingdoms that would do anything to keep the truth hidden. But when the earth begins to shake, and the skies start to bleed, it may already be too late.
[ This synopsis was taken directly from Goodreads. ]
My Thoughts
(a.k.a. my love letter to Jennifer L. Armentrout)
First thing I'd like to point out is that this series is in the new adult category. It is NOT young adult. Just saying that for our younger audience out there that can be a bit shocked by some of the more graphic scenes in this series.
Okay, now let's just get straight to it.

I loved this book. Okay?

I freaking loved it.
There isn't is Jennifer L. Armentrout book that I haven't liked yet, but this one is probably the best ones I've read so far. Then again, JLA has been releasing a lot of bangers for the past couple years. I don't know how she does it, but she often comes out with two or more books a year. It's crazy. I've been quickly accumulating a lot of her books on my Kindle to the point that she has her own category now on my e-reader. But I digress.
If you haven't read From Blood and Ash and don't want to be spoiled, I highly recommend you don't go any further into this review. I'm about to spoil something massive about the first book. You have been warned.
If you remember from the first book, From Blood and Ash, it ended on an excruciating cliffhanger: Poppy and Hawke (a.k.a Casteel) are going to get motherf-ing married.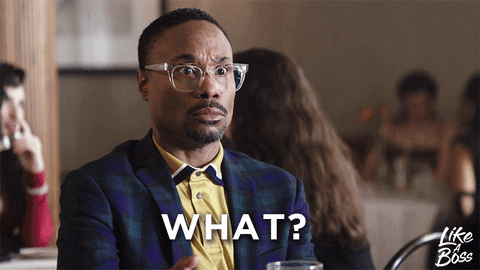 AKOFAF picks up immediately after Hawke (who I'm now going to call Casteel/Cas from this point forward) proposes to Poppy. Poppy is obviously not for that idea, despite the fact, deep down, she's in love with Casteel.

Not going to lie, Poppy gets a little stabby in the first half of the book. It's funny how she always manages to get her hand on some sort of sharp object no matter what people do. Plus, the banter between Cas and her is to die for. Their witty comments and quips at each other had me smiling from ear to ear with laughter.

While I don't often draw fan art anymore, Poppy's stabby nature inspired me instantly. I just had to draw her with a steak knife and a mischievous grin on her face.
Check out my art Instagram (mushu.n.friends) for the original post!
While I love the romance and dynamic between Poppy and Cas, there are some things I feel like I need to point out. For one, Cas is over 200 years old, while Poppy… is not. While I don't remember her exact age, she can't be older than her mid-20s. Granted, it was implied later in the book that Atlantians mature a lot slower than humans because they live longer. That means, maturity wise, they are around the same age. If you look purely at how many years they've been alive, Cas is far older. If you're too weirded out by that, this book might not be for you. Personally, I'm a little weirded out by the age gap, but it helps knowing that they're the same age mentally.

As far as representation goes within this series, there aren't many characters who aren't white. There is only one POC in the main cast of characters, to my knowledge. That might change throughout the series, but I highly doubt it. It would be nice to see characters of different backgrounds, but sadly I don't think we're going to get that in this series.

This might sound off-putting, but I liked AKOFAF better than FB&A because there were more fight scenes and battles. Hear me out: there was a lot of talk in the first book that Hawke and Poppy were good fighters in their own way. We see them display these fighting skills from time to time but not to their fullest potential. In AKOFAF, we get to see it ALL, and it's GLORIOUS. If I were to compare it something, it would be equivalent to the battle scenes in the last three books of the Throne of Glass series. They're INTENSE, and I LOVE IT.

Also, there are more steamy moments in AKOFAF than FB&A for you folks at home who love romance. (Where are my romantic-at-heart people whoop whoop~! 🙋‍♀️)

Much like JLA's other works, AKOFAF is told in first person through Poppy's point of view. Personally, I prefer stories in first person, because they allow me to get into the mind of the main character easier. There is a not-so-subtle shift in Poppy's tone and attitude around the halfway~60% mark. I can't say anything more other than it was like a breath of relief for the audience.

Jennifer L. Armentrout certainly knows how to create the best (a.k.a. the most painful) cliffhangers. I thought that the ending of FB&A was the most excruciating one out of all her books, but I stand corrected. AKOFAF has a pretty intense one that had me saying what the fu- and I need the next book, stat at the same time.

On the note of cliffhangers, I know that chapters are meant to be mini stories within themselves. I found this book really hard to put down because almost every chapter had a mini cliffhanger ending that made me want to read more. Since I read right before I go to bed, I would stay up until I feel my eyes drooping no matter how hard I try to stay awake. It's that good.

If you like hot af immortal vampires falling for badass mortal gals, this book has your name written all over it. If you like stories that you can't seem to put down, this book is for you. If you avoid cliffhangers like its the plague, then maybe wait until the third book is out, but make sure to add this book to your TBR.
—– ●⚫● —–
What are your thoughts on the Blood and Ash series so far? Who is your favorite character and why? What made you want to read this series in the first place?
Let me know your thoughts in the comments (and please keep them spoiler-free for our friends who haven't caught up with the series just yet)!
Conclusion
I give A Kingdom of Flesh and Fire 4.5 stars!
Stay awkward and amazing!