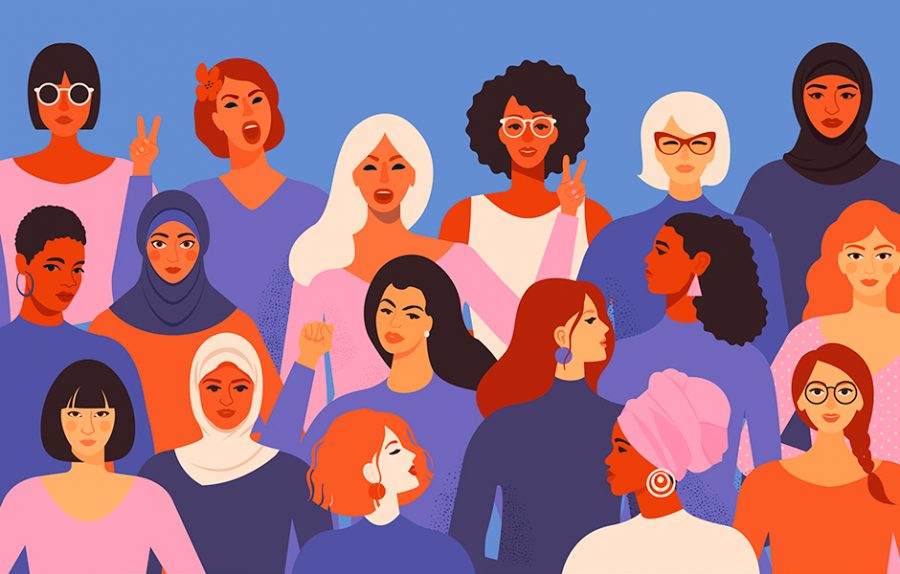 THE WOMEN'S HISTORY
BOOK TAG

Happy Women's History month! I'm back from my impromptu break and feeling much better than before. I was having trouble thinking about what I wanted to post when the lovely Marta @ Of Waves and Pages tagged me to do this fun book tag! Marta's the sweetest person on earth, so please give her blog and YouTube channel some love!
Rules:
Thank the person who tagged you and link back to their post.
Link to the creator's blog in your post
Answer the questions below using only books written by women
Feel free to use the same graphics
Tag 8 others to take part in the tag
─────────────────────────── ●⚫● ───────────────────────────
From Blood and Ash by Jennifer L. Armentrout
Poppy does pretty much the opposite of her role as the Maiden in this story. The Maiden is a symbol of "purity," where she is expected to be never looked at, touched, or talked to. It's a bunch of BS (if the job description didn't clue you in on that), and Poppy decides to take her life into her own hands.
Warcross by Marie Lu
Warcross follows Emika, who is both a hacker and a bounty hunter. Not only is she tech smart, she's street smart as well. There is this game called Warcross (I wonder how the author came up with the title) that everyone in the world is obsessed with, and Emika accidentally hacks herself into its international championship. She obviously gains the attention of the game's creator Hideo, but rather than arresting her, he offers her a job: spy on the competition to discover a security problem. However, things aren't as simple as they seem. The more Emika digs, the more questions are raised.
Becoming by Michelle Obama
Michelle Obama was the First Lady of the United States between 2009 to 2016. In 2018, she published a widely popular memoir. While I'm not big on politics, I decided to pick this one up because everyone was talking about it. It was super interesting to learn more about her upbringing and the day-to-day life of the first family. There is so many logistics to consider when you're the one of the leaders of a country that us common-folk don't have to think about. It was cool to see just how insane their lives were before and during Obama's presidency. Even if you didn't support them while they were in office, I still think this book is worth a read.
The Invisible Life of Addie LaRue by V.E. Schwab
While I had some minor problems with this story, the one thing that stood out to me was the writing. The writing was *chef's kiss.* People say that literature is art, and this book solidifies that claim. I felt like I was consuming a work of art. V.E. Schwab's writing style is so lyrical, and I can't wait to see what else she releases.
An Ember in the Ashes by Sabaa Tahir
I immediately thought of Helene Aquilla when I saw this prompt. She is one of the best soldiers at Blackcliff Academy, and her sword and mind only becomes sharper as time goes on. Also, as much as I don't like the Commandant, she's also a super skilled female warrior. I still haven't read the last book of this series. I'm too scared that my favorite characters (who's left of them) are going to die, but I'll have to find out sooner or later.
Aurora Rising by Amie Kaufman & Jay Kristoff
Before you yell at me that Jay Kristoff is not a female author, I have to say that I didn't want to put The Lunar Chronicles by Marissa Meyer, and I don't read a lot of sci-fi books. The only books set in space I've read in the past couple years is by this duo, so this is all you're getting out of me. Aurora Rising is a cross between Guardians of the Galaxy and a soap opera. It is amazing, dramatic, hilarious, and intense.
Gods of Jade and Shadow by Silvia Moreno-Garcia
I don't know if this book is underappreciated, but I don't see a lot of people talking about it on the internet. Who doesn't like a good mythology? When I heard this was about Mayan gods, I was like sign me the heck up! This book is unlike anything I've ever read before, and I hope there are going to be more stories about mythologies outside of Europe published in the future.
Red, White & Royal Blue by Casey McQuiston
I wanted to choose a book with a transgender character, but I realized that I haven't read that many books with them. If you have any recommendations of books by trans authors/about trans characters, please let me know! I clearly need to expand my reading horizons. Anyways, one book I finished very recently is Red, White & Royal Blue, which is about the son of the US president and the prince of England falling in love. It's a perfect blend of drama, romance, and politics.
The Hate U Give by Angie Thomas
I don't think I have to explain this choice. This book is absolutely amazing and important. It surrounds the topic of Black Lives Matter. If you haven't picked it up yet, I highly recommend. John Green had said that this book is going to be a classic, and I completely agree.
These Violent Delights by Chloe Gong
I haven't finished reading this book yet, but what has made me fall in love with it so far is that the author expertly incorporates the problems, microaggressions, and racism that Asian people face. When I started reading it, it was nice to see that someone acknowledged that this stuff we face everyday can be shitty. This is even more relevant with what's been going on in America. My family and I have avoided a lot of the physical violence, but there have been some cases where some strange people would show up to our house.
─────────────────────────── ●⚫● ───────────────────────────
I tag…
Nehal @ Books and Words
Leyanis @ The Blogger and the Geek
Erin @ Reading on a Star
Maeve @ Books by Maeve
Cherry @ Letters to the Lost
Rae @ Rae's Reads and Reviews
Naty @ Naty's Bookshelf
Melissa @ Young Creative Press
… and you!
─────────────────────────── ●⚫● ───────────────────────────
Stay awkward and amazing!