✧ This review is spoiler-free! ✧
"You will bow before your Queen… or you will bleed before her."

– Jennifer L. Armentrout, The Crown of Gilded Bones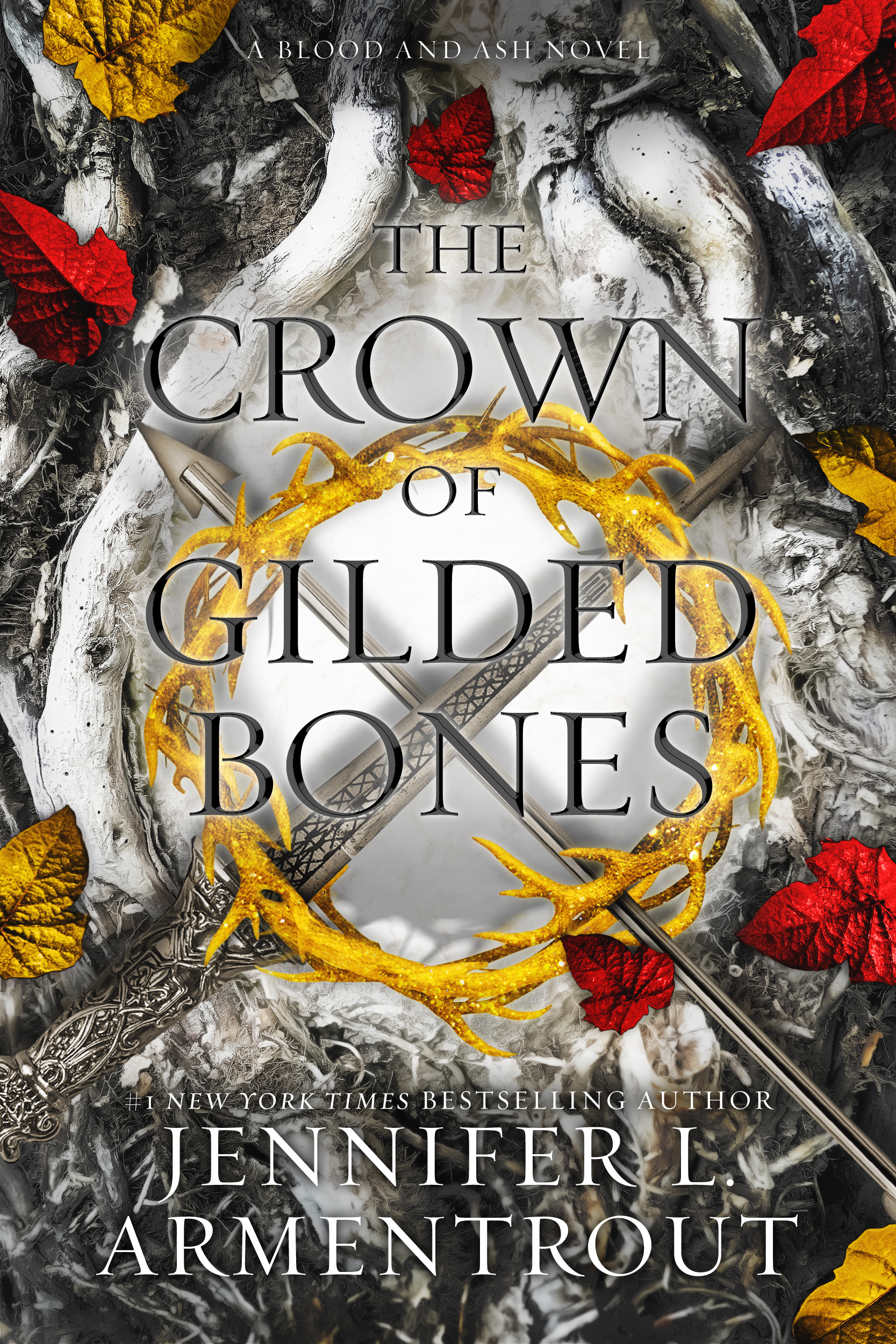 Title: The Crown of Gilded Bones
Series: Blood and Ash, #3
Author: Jennifer L. Armentrout
Publisher: Blue Box Press
Published: April 20, 2021
Category: new adult
Genre: fantasy, romance
Pages: 659
My Rating: ★★★☆☆ (3.5)
Goodreads page
──────── ●⚫● ────────
Synopsis
She's been the victim and the survivor…

Poppy never dreamed she would find the love she's found with Prince Casteel. She wants to revel in her happiness but first they must free his brother and find hers. It's a dangerous mission and one with far-reaching consequences neither dreamed of. Because Poppy is the Chosen, the Blessed. The true ruler of Atlantia. She carries the blood of the King of Gods within her. By right the crown and the kingdom are hers.

The enemy and the warrior…

Poppy has only ever wanted to control her own life, not the lives of others, but now she must choose to either forsake her birthright or seize the gilded crown and become the Queen of Flesh and Fire. But as the kingdoms' dark sins and blood-drenched secrets finally unravel, a long-forgotten power rises to pose a genuine threat. And they will stop at nothing to ensure that the crown never sits upon Poppy's head.

A lover and heartmate…

But the greatest threat to them and to Atlantia is what awaits in the far west, where the Queen of Blood and Ash has her own plans, ones she has waited hundreds of years to carry out. Poppy and Casteel must consider the impossible—travel to the Lands of the Gods and wake the King himself. And as shocking secrets and the harshest betrayals come to light, and enemies emerge to threaten everything Poppy and Casteel have fought for, they will discover just how far they are willing to go for their people—and each other.

And now she will become Queen…
[ This synopsis was taken directly from Goodreads. ]
──────── ●⚫● ────────
Thoughts
I… didn't like this book as much as I thought I would. I've been a huge Jennifer L. Armentrout fan even before I started this blog, but I'm starting to think that my reading tastes have changed.

I had a semi-hard time reading this book. I was so frustrated with the little progress I was making that I set the book down for a month before picking it up again. Don't get me wrong. The plot is fantastic, and the world and characters are super interesting. It just no longer scratches my fantasy itch like it used to, and I think that's why I had such a hard time getting through the story.

I did have one problem with the story, which was the joke about Poppy asking a lot of questions. Here's the thing: I understand it's a running gag within the series, but when you make the joke every two chapters, it can get annoying pretty quickly. This joke has been going on for the past two books, and I'm kind of over it. It's funny the first few times it's made, but after that it's just annoying. The characters tease Poppy about her constant questions pretty much every time she asks one (which is often), so I found myself getting a little irritated.

That being said, one thing I really liked about the story is Cas's character. I like how we get to learn a little more about him, and how he's not "perfect" and has insecurities of his own. I find that in a lot of fantasy novels, the romantic partner of the protagonist is usually this overpowered, perfect, trauma-less person who is there to help the main character on their quest to save the world. While Cas is definitely powerful, JLA doesn't forget the fact that the Blood Queen has done some horrendous stuff to him. That torture he went through still affects him even though now he's free.

The plot, much like all of JLA's books, is a rollercoaster. One moment, you think Poppy and the gang are winning, and the next they're seriously out-maneuvered. It's kind of chaotic, but if unpredictable is something you're looking for, this series is for you.

This book was okay. I enjoyed the story, but I was frustrated while reading it. I'm not sure if I'm going to continue this series when the next book comes out, but we'll have to wait and see.
TL;DR

✅ unpredictable plot
✅ good character development for Cas
❌ frustrating to read at times
❌ the "Poppy asks too many questions" joke is getting very old
──────── ●⚫● ────────
Rating
I give The Crown of Gilded Bones 3.5 stars!
──────── ●⚫● ────────
Stay awkward and amazing!