Hey, internet land! It's been a hot minute since I've posted anything here, but I thought I'd come back from my hiatus for a second to talk about the books I read this year. I didn't get much reading done ever since I took a break from blogging, but that doesn't mean I didn't come across some fantastic books and graphic novels!

In no particular order, here are my top 10 books that I read in 2021!
──────── ●⚫● ────────
Firekeeper's Daughter by Angeline Boulley
I know I said that these books would be in "no particular order," but if I HAD to choose a #1 favorite from this year, Firekeeper's Daughter might take the cake. It's Nancy Drew meets Ojibwe culture, and it covers a lot of social issues in a really meaningful way. All that aside, it's also an amazing thriller and murder mystery. I don't even like thrillers, but I REALLY enjoyed this one. Super excited to see what else Angeline Boulley writes in the future, and I highly recommend this book if you haven't already picked it up!
The House in the Cerulean Sea by T.J. Klune
This. Book. Is. So. Freaking. Cute! I really needed something wholesome after how emotionally hectic this year has been, and this book gave me the healing energy I needed. This book is all about family, home, and healing. Even if you don't like fantasy books, I highly recommend this to anyone who just needs some positivity in their lives.
Iron Widow by Xiran Jay Zhao
On the opposite end of the spectrum from The House in the Cerulean Sea, this book is all action and chaos, and I freaking love it. There's something satisfying about seeing someone take the crappy situation they've been dealt and turning it into their advantage. Zetian chooses violence every step of the way in this story, and I can't help but root for her.
Red, White & Royal Blue by Casey McQuiston
I don't think I need to explain myself on this one. Everyone and their mothers seemed to have already read this book, but I finally got around to picking it up this year. Alex and Henry's relationship is so cute, and I hope to see more of them in future books!
These Violent Delights by Chloe Gong
Gotta love a retelling of Romeo & Juliet set in 1920s Shanghai! Two lovers from rival gangs, a bitter past history filled with betrayal, and secrets between them that could potentially blow up and destabilize their social order as they know it. Plus a mysterious disease that forces people to claw their own throats out is plaguing the city. What could possibly go wrong?
A Sky Beyond the Storm by Sabaa Tahir
This was a great conclusion to an amazing series. I don't want to get more into it because of spoilers, but if you want to read more of my thoughts, you can check out my full review here!
Six Crimson Cranes by Elizabeth Lim
I love Elizabeth Lim's writing! She has a way of retelling fairy tales but making the story her own, if that makes any sense. I didn't know much about The Wild Swans by Hans Christian Andersen before reading Six Crimson Cranes, but it was enjoyable nonetheless. If you're craving a YA fairy tale retelling that isn't the usual Cinderella / Beauty and the Beast / Hades & Persephone, this one's for you!
Tea Dragon series by Kay O'Neill
This series was a reread for me (except for The Tea Dragon Tapestry), but it was fantastic as always. The art style is so cute, and the friendships and characters are so wholesome! 10/10, would recommend this graphic novel series.
The Anthropocene Reviewed by John Green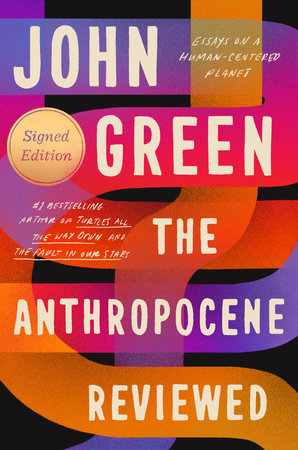 I don't usually read nonfiction books/essays, but I had been listening to The Anthropocene Reviewed podcast on and off ever since it first came out. John Green's fictional work has been a hit-or-miss with me, but I thought I'd give his nonfiction work a try. I'm glad I did, because I really enjoyed it! I mainly listened to the audiobook (there's something really nice about the author narrating their own memoir/essays), and it was a great way to unwind at the end of the day.

I give The Anthropocene Reviewed 5 stars.
The Alloy of Law by Brandon Sanderson
This book felt like coming home. I had missed the Mistborn world ever since I finished Hero of Ages. I knew a spin-off series existed, but I was afraid to pick it up because I thought it wasn't going to live up to expectations. It's definitely not as good as the original series, but it's still a fantastic start to a new era. I love the dynamic between Wax and Wayne (yes, those are their real names), and I can't wait to see where this series will go!
──────── ●⚫● ────────
Stay awkward and amazing!